Yesterday I manage to assemble the parts so far, that there is not much left for tomorrow, when I hope to finish the Lathe.
This are the parts for the tailstock and nuts&bolts for assembly: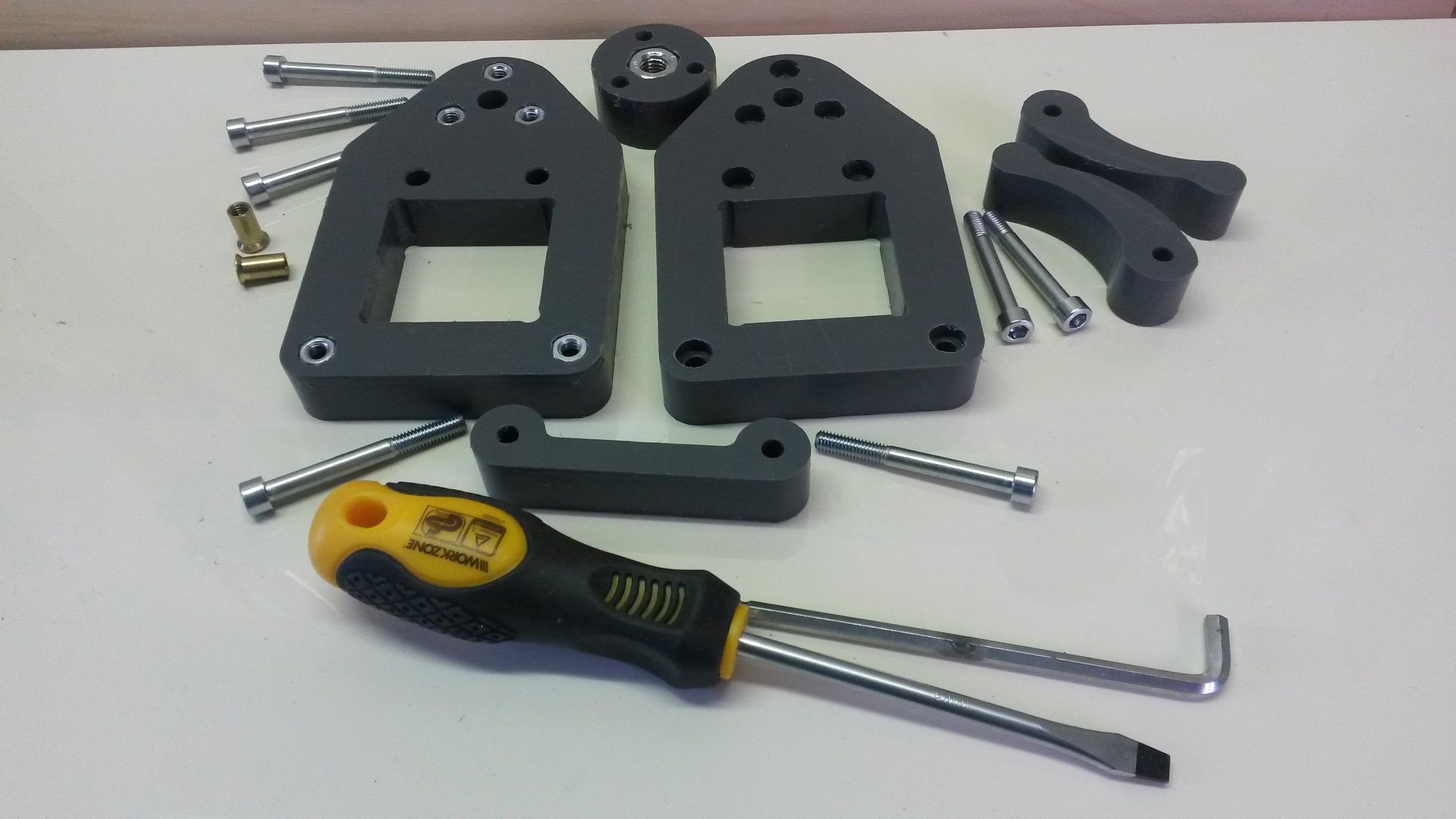 And assembly process: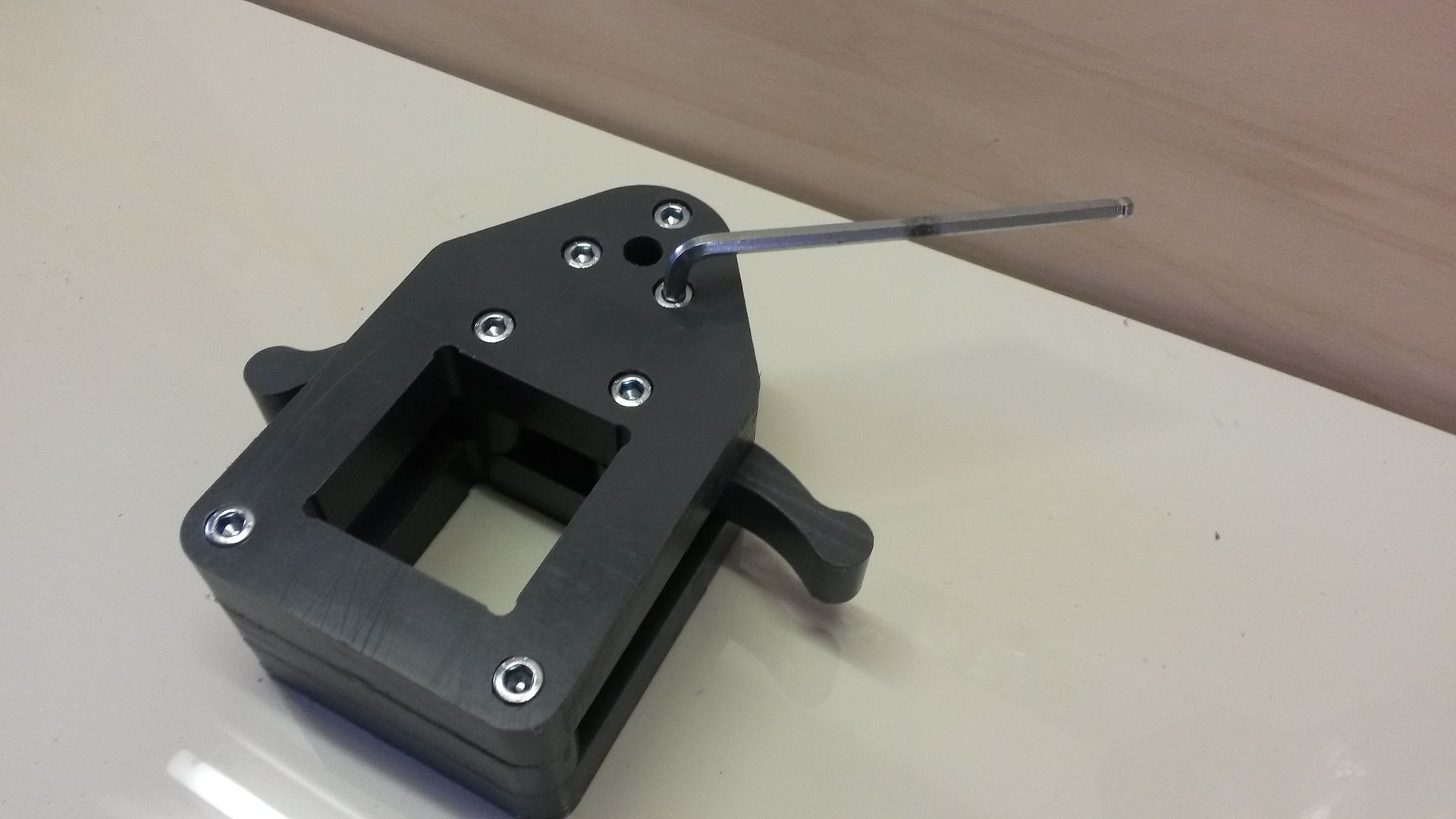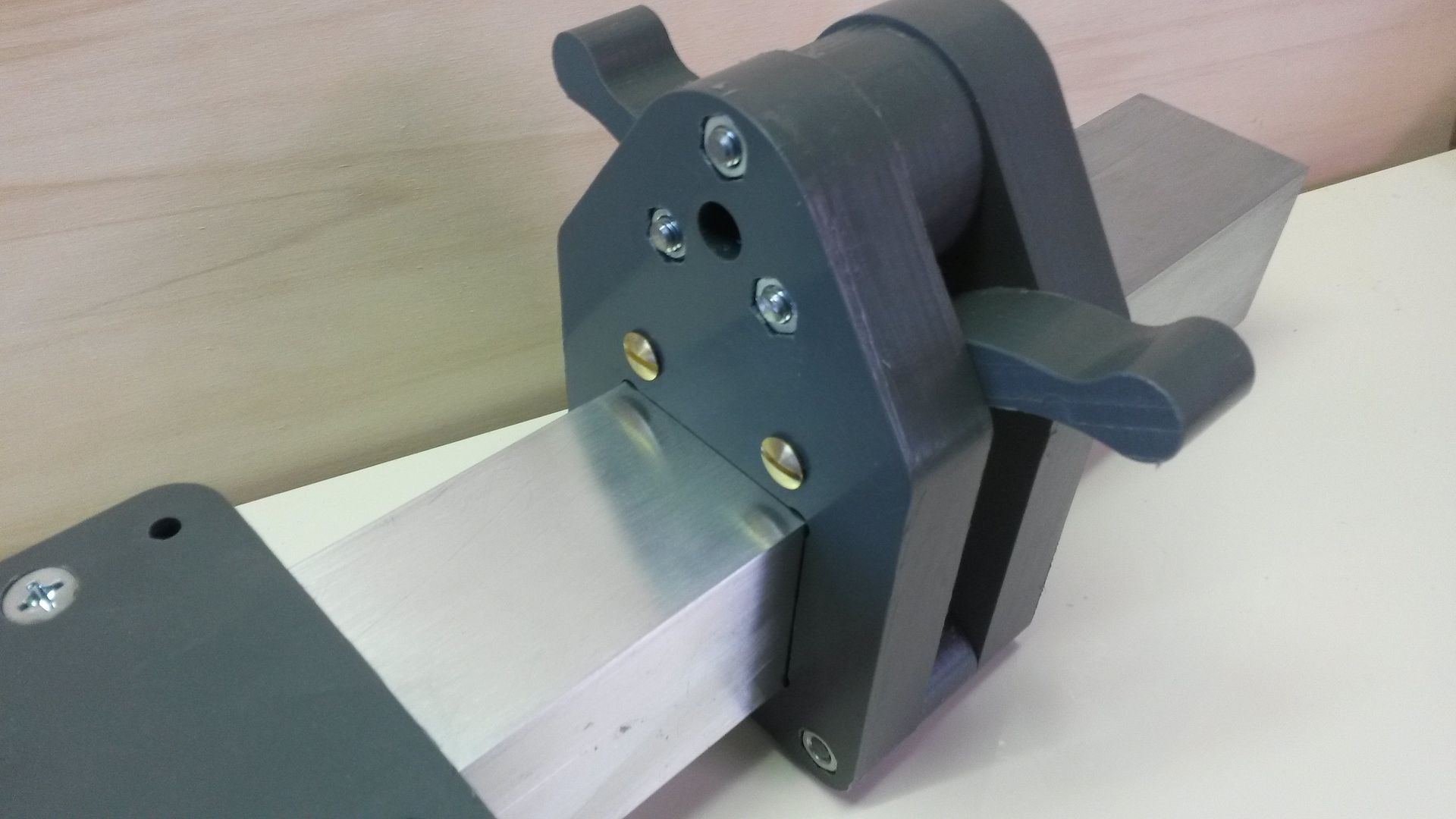 A week ago I was forced to make souple of woodprint carving knifes. To make wooden handles I make a provisory "lathe" using small workshop drill pres machine. I realize how nice is to carve something from a wood stock with your own hand and chisel. It is rewarding and nice feeling doing that. But, as turning object is rotating around vertical axis, it brings a strange feeling.. like world is canted for 90 deg.!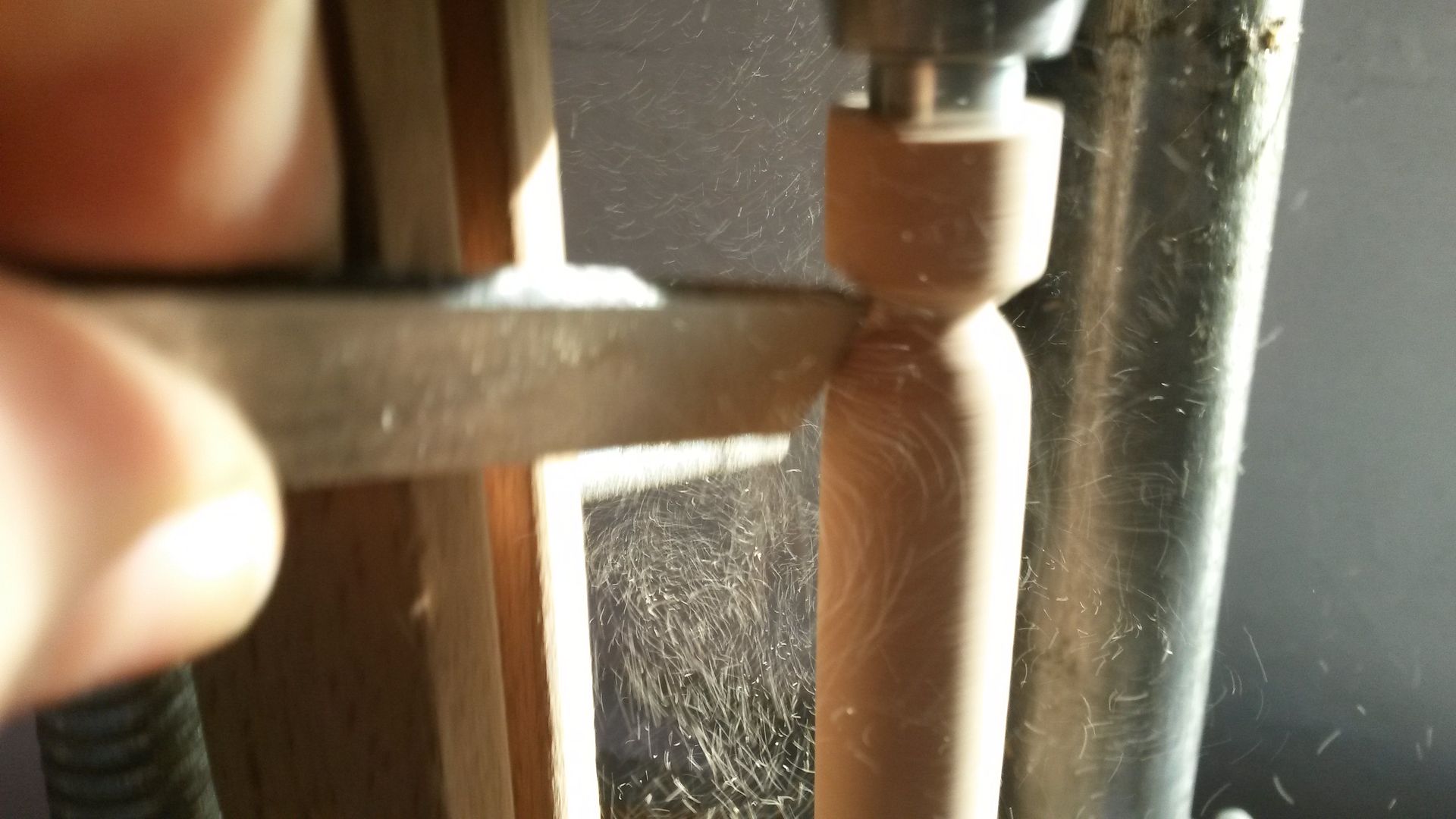 So, I came up with idea to make myself a simple woodturning lathe out of materials I already have in my workshop!
The main keel of the machine is an aluminum square tube 50x50mm. The rest of the machine will be milled out from a 20 mm thick plastic plate. The power source will be a hand drill. Support for the chisel will be driven left/right by turning a wheel handle and threaded rod. This way I will be able to clamp the chisel to the support and drive it parallel to the object axis. It is for ease of perfect diameter all over the object length when needed.

The preliminary design was as follows:
Today I cut some plastic parts on my DIY CNC router and they look promising. They slide well on the aluminum profile, so I guess I choose proper tolerances. I am looking forward to run tomorrow into the workshop and continue to mill out all the assembly parts. I must visit a local hardware store also for batch of nuts and bolts, threaded rods, drywall screws, wingnuts....
These are the first parts, made an hour ago:
This plastic is very easy to mill. Unfortunately I dont know the material name, but it feels smooth and "oily" in the hands. (No, it is not "oilon")

3D PRINTED CASING FOR HOBBY KING HD WING CAMERA II
Quite a while ago, I purchased HD Wing Camera II - Full HD 1920x1080P 30FPS.
As I use it for aerial video and installed it on the gimbal, I often find very hard to operate the micro buttons, that are covered with a heat shrink plastic, that camera is encasing with, not to fell appart. Of course, that heat shrink plastic instead firm solid shell was the reason of that camera affordable price.
DOMESTIC 3D PRINTING
As 3D printing became more and more affordable thesedays, I decided to design a casing and ask my nethew, who own a 3D printer, to make me a prototype.
Prototype came out pretty satisfactory and within a budget: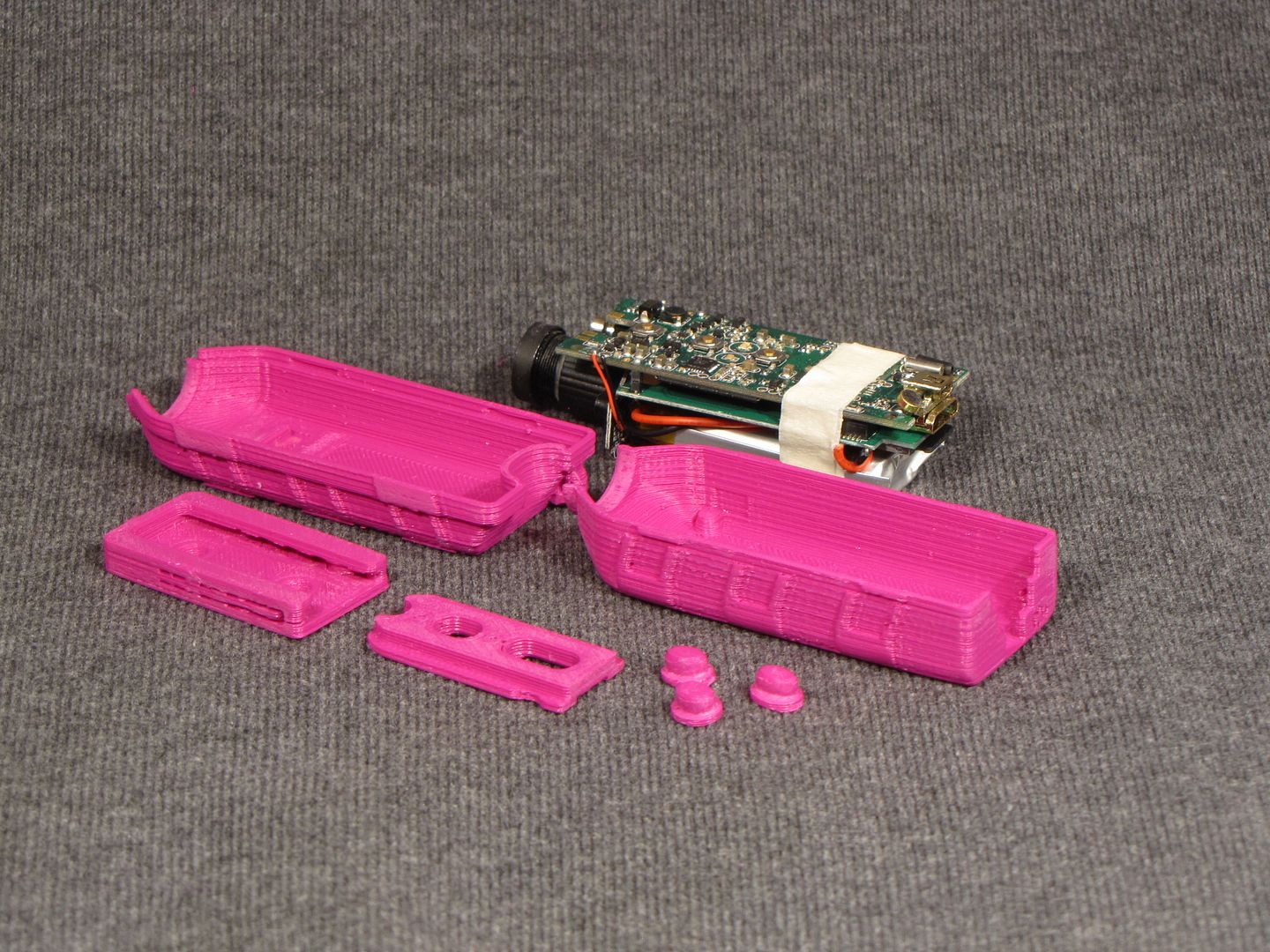 Photo above: 3D print (DaVinci)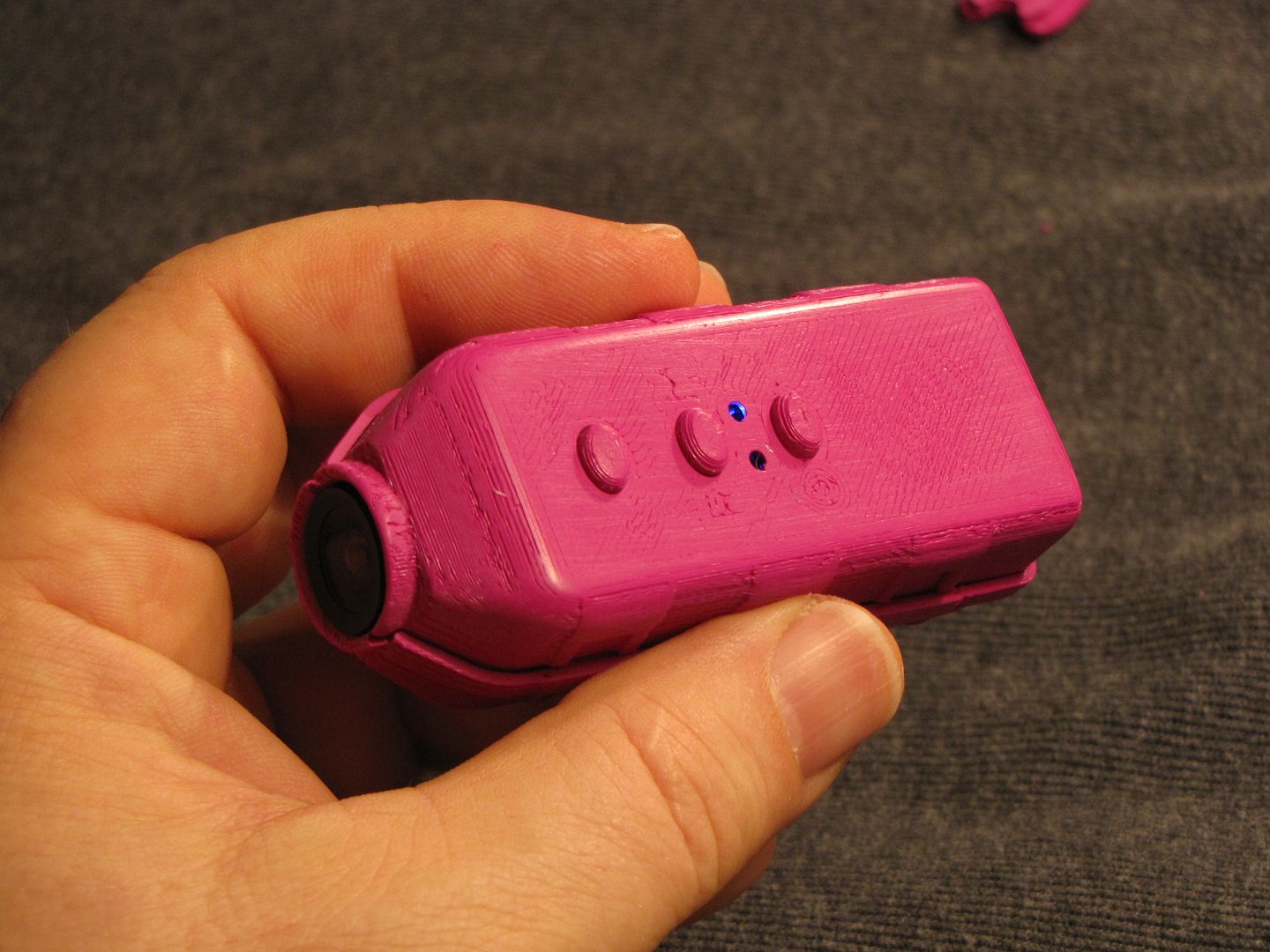 Photo above: functional prototype.

That test 3D print encourages me to go a step further!

SHAPEWAYS 3D PRINT
Then I want to try another 3D printing option, and send my design to Shapeways for 3D printing.
After couple of days, postmen ring the bell and a mistery box was in my hands!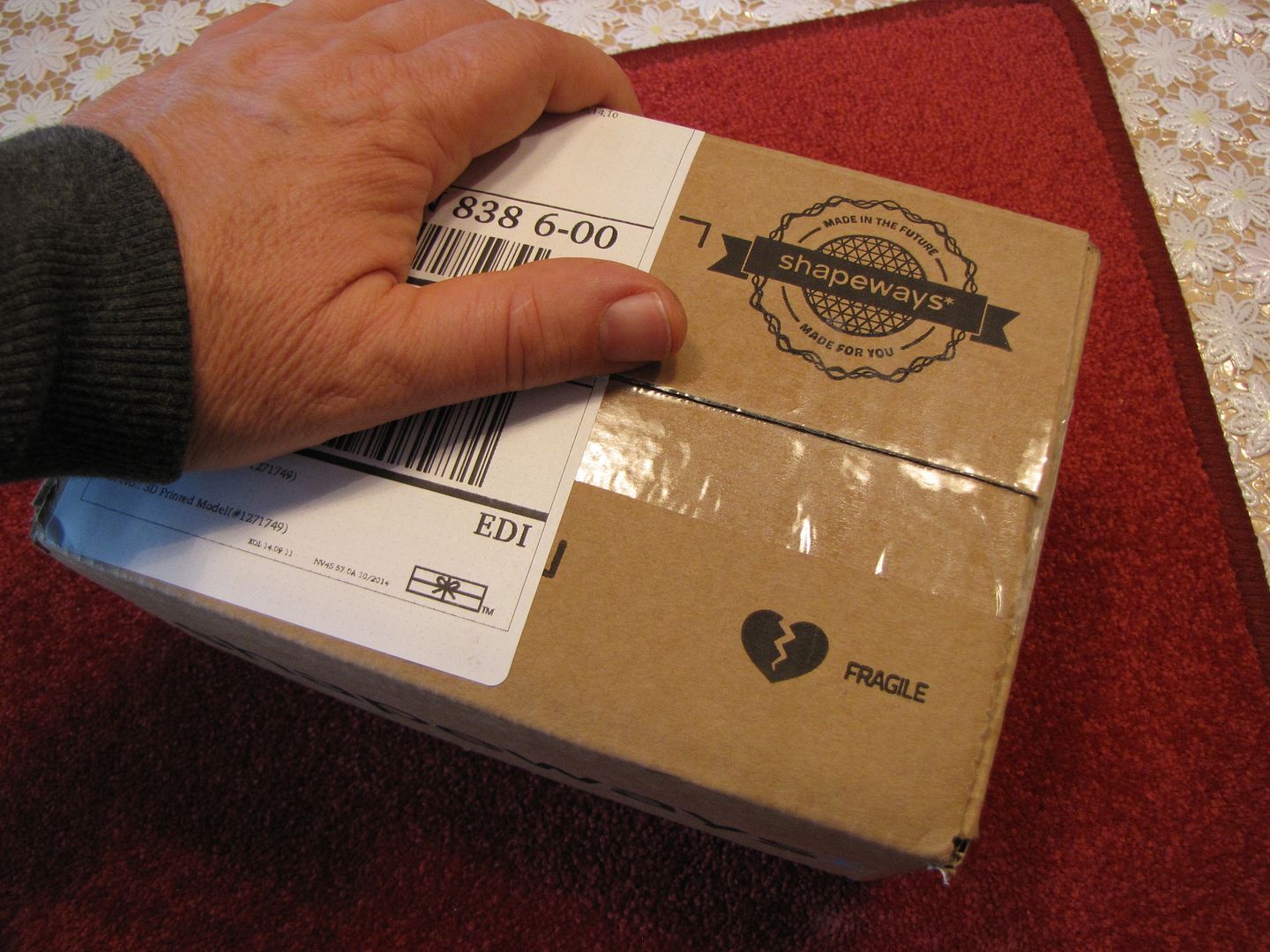 Photo above: Parts came in very sturdy paper box.
UNBOXING:
I was surprised with parts as even small details are well done. As I didnt choose polished finish surface (extra price), parts looks and feels a little "sandy", but that is not a problem. One can left parts as they are, while I test smoothing surface with fine wet sandpaper. It is easy doable if you are patient and precise.

Lets look the parts closely:
Photo above: first impression was good..both look and feeling.
Photo above: all parts. From left to right: Rail base for fastening camera on the base (RC model plane, helmet..), sliding clip that fit into the rail base, buttons are connected to the rail as they are so small that they scould not be printed separately, upper and lower camera casing shell.
Photo above: close view on the detail. A microphone hole with some protection mesh. Note step on the material thicknes at the lap joint edge.
Photo above: tiny depression in the joint allow bottom and upper shell to "click" together. Of course, glue is needed for permanent joint of both shells.

Photo above: some "fancy", slightly unnecessary details on the casing, just for good look and for testing of the printing process ability.

ASSEMBLY INSTRUCTIONS OF THE CAMERA AND CASING:
Preparing the casing parts
Tools needed:
Photo above: tools needed are cutting pliers or mall nail scissors, nail file and a medium sandpaper. Wood block optional...

Firstly, camera buttons should be free of the larger part. You can use scissors, cutting pliers or even a hobby knife.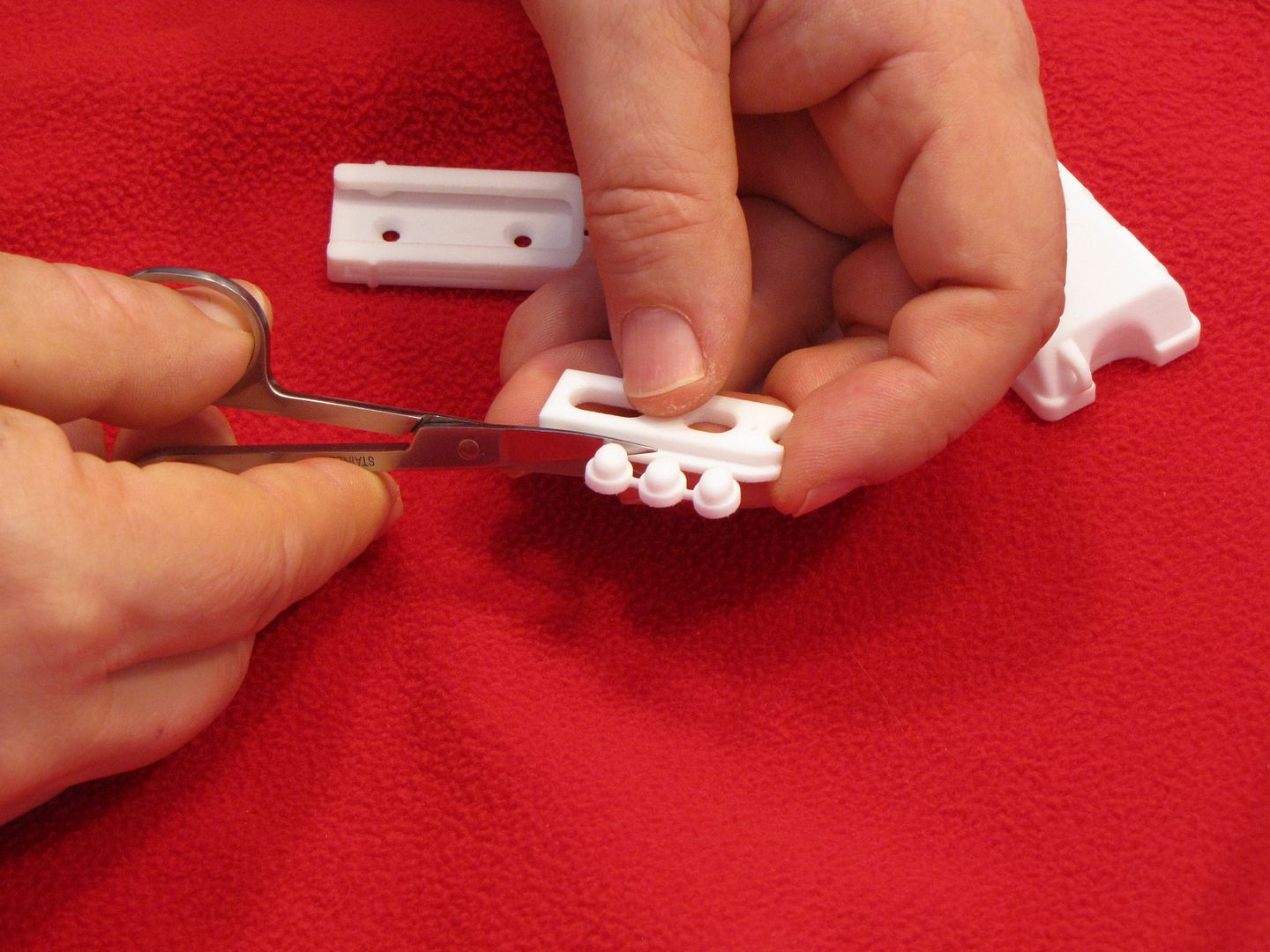 Photo above: cut buttons away from a large part.
Photo above: clean buttons of joining sticks as nice as you can.
Clean buttons perimeter.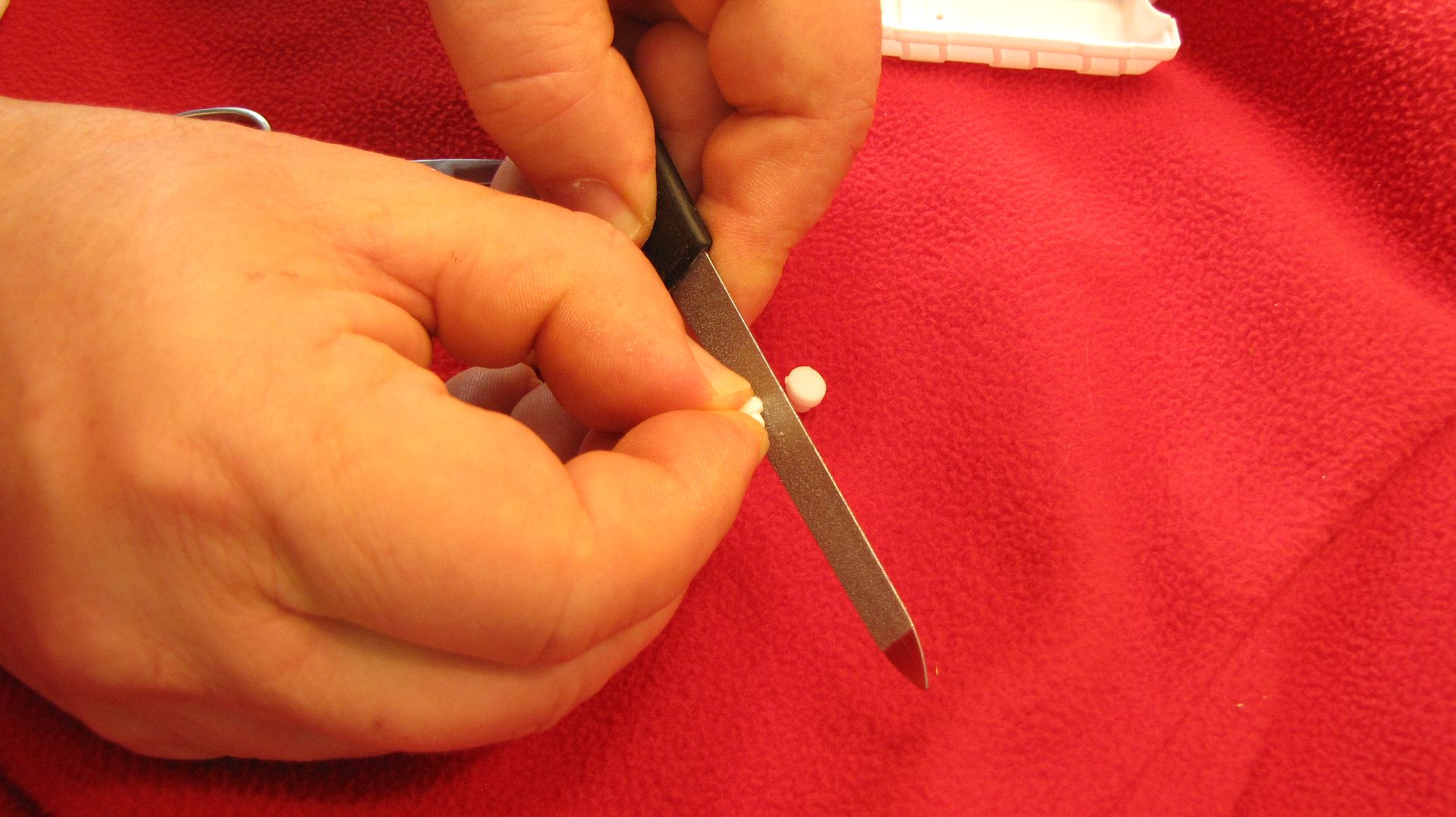 Photo above: use sandpaper or nail file to clean button perimeter at points where they were connected together with each other and another parts. Take care not to loose these small buttons! You need all of them!

QUICK RELEASE CLIP (this part is optional)
Now clean the rail and its clip.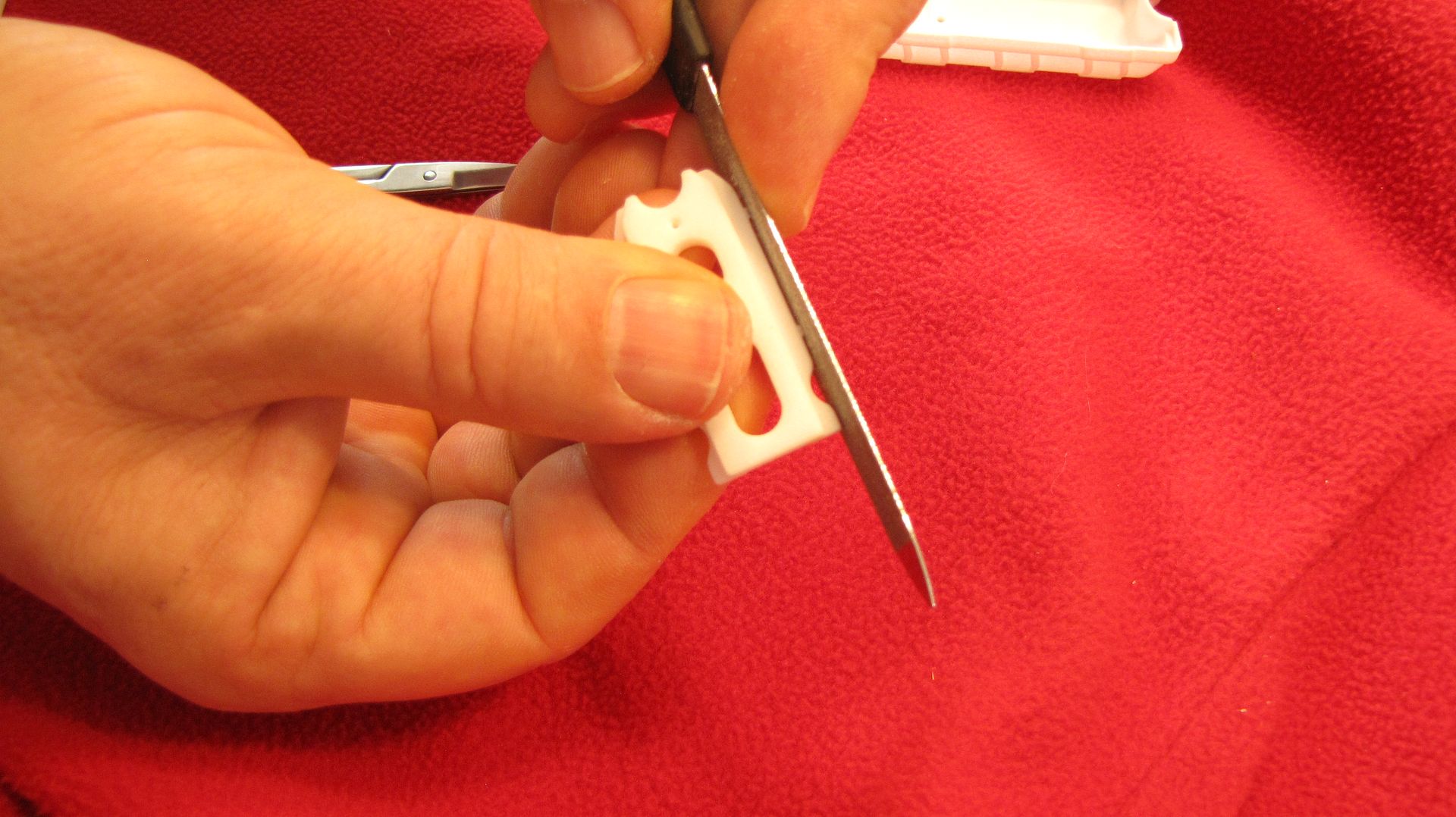 Photo above: clean the edge of the clip, where buttons were attached. Use sandpaper or nail file....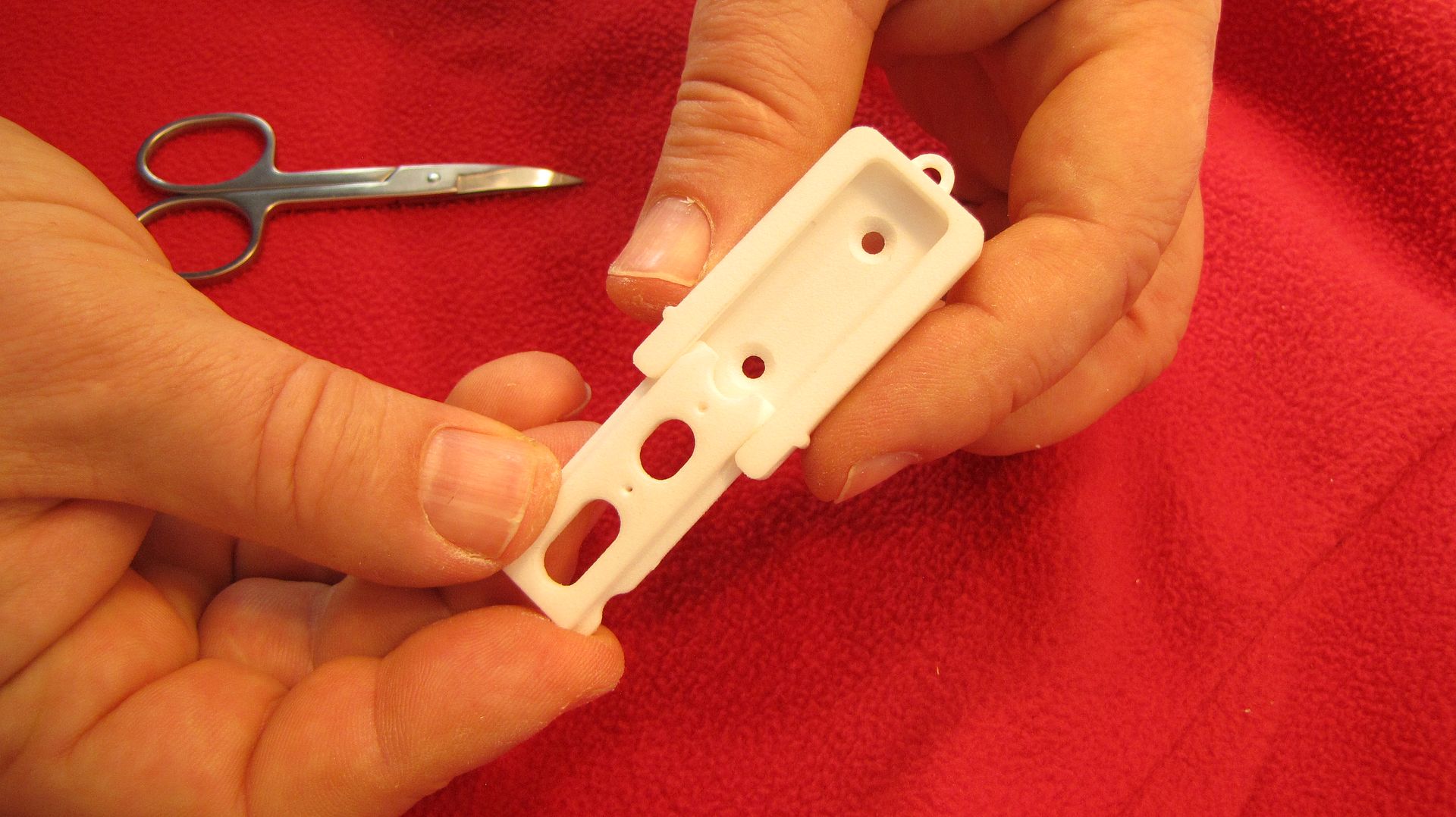 Photo above: clip will not fit into the rail!  Rail must be prepared. Just sand away tiny bulges at both sides.
Sand off both bulges on the sides: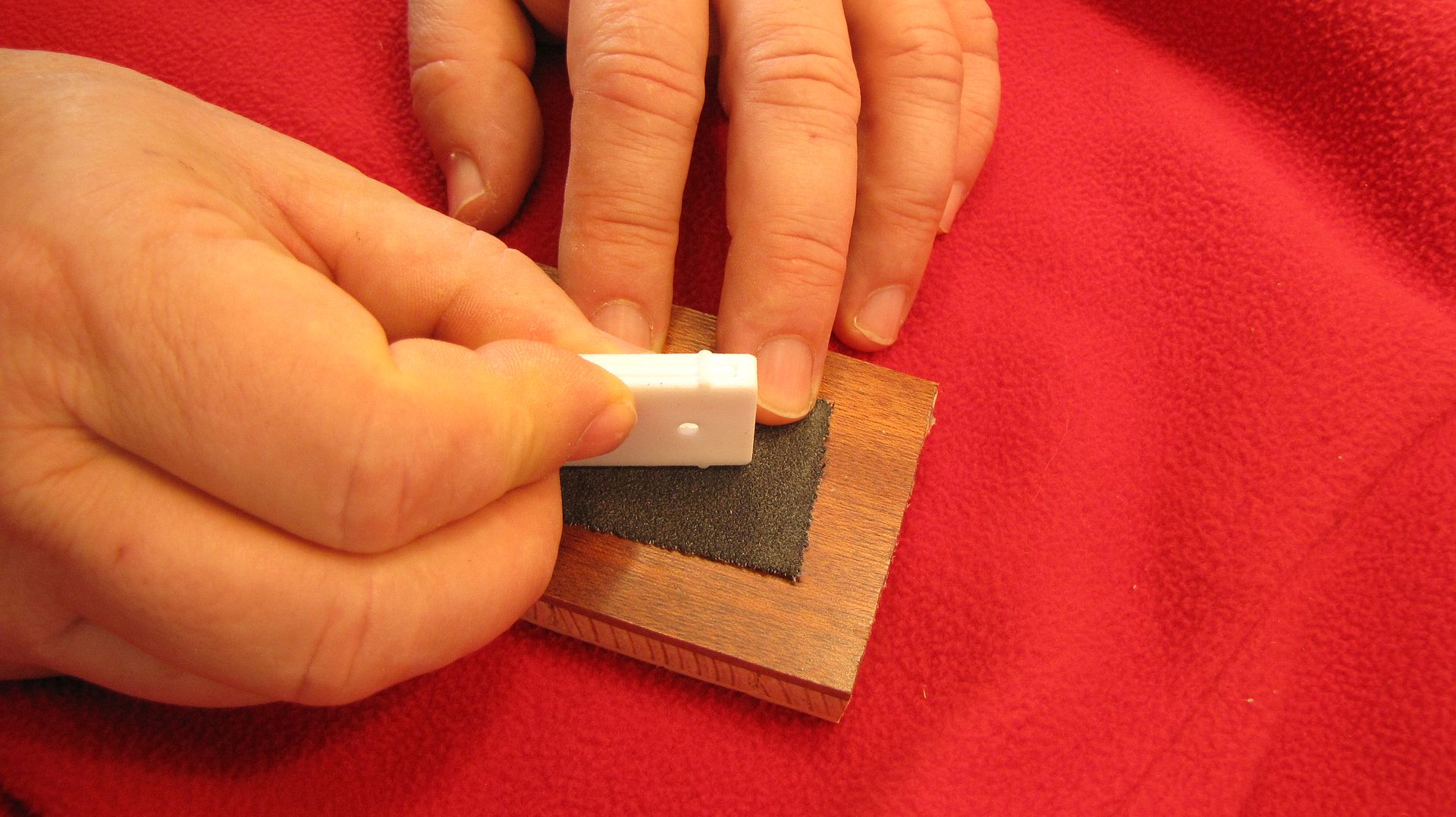 Photo above: sand away both bulges on the sides to free tounges inside the part.
Now test how parts fit together.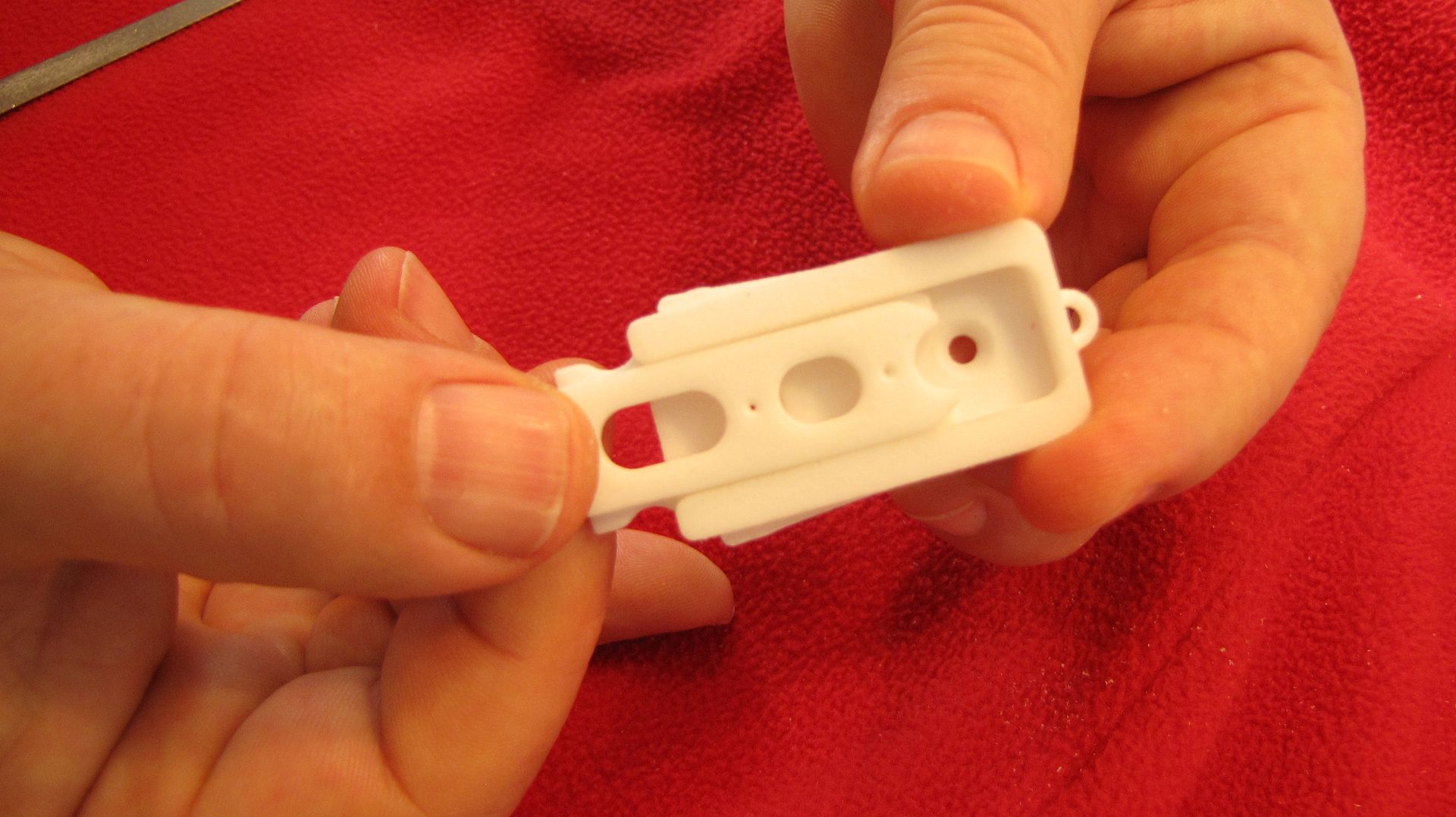 Photo above: check how parts fit together.
You will see, that tounges are pretty gentle (depending on the material used), so if you feel that joint is not as secure as you wish, you just glue some adhesive tape to the rail surface to create some aditional friction between rail and clip. You can also glue tounges at the middel of their length. So their lever will be shorter and they will bend twice as harder.

If you opted to use that clip, use two small screws (2x5mm) and screw clip on the bottom camera casing. Screws are not included in the package.

Photo above: proper orientation of the mounting clip.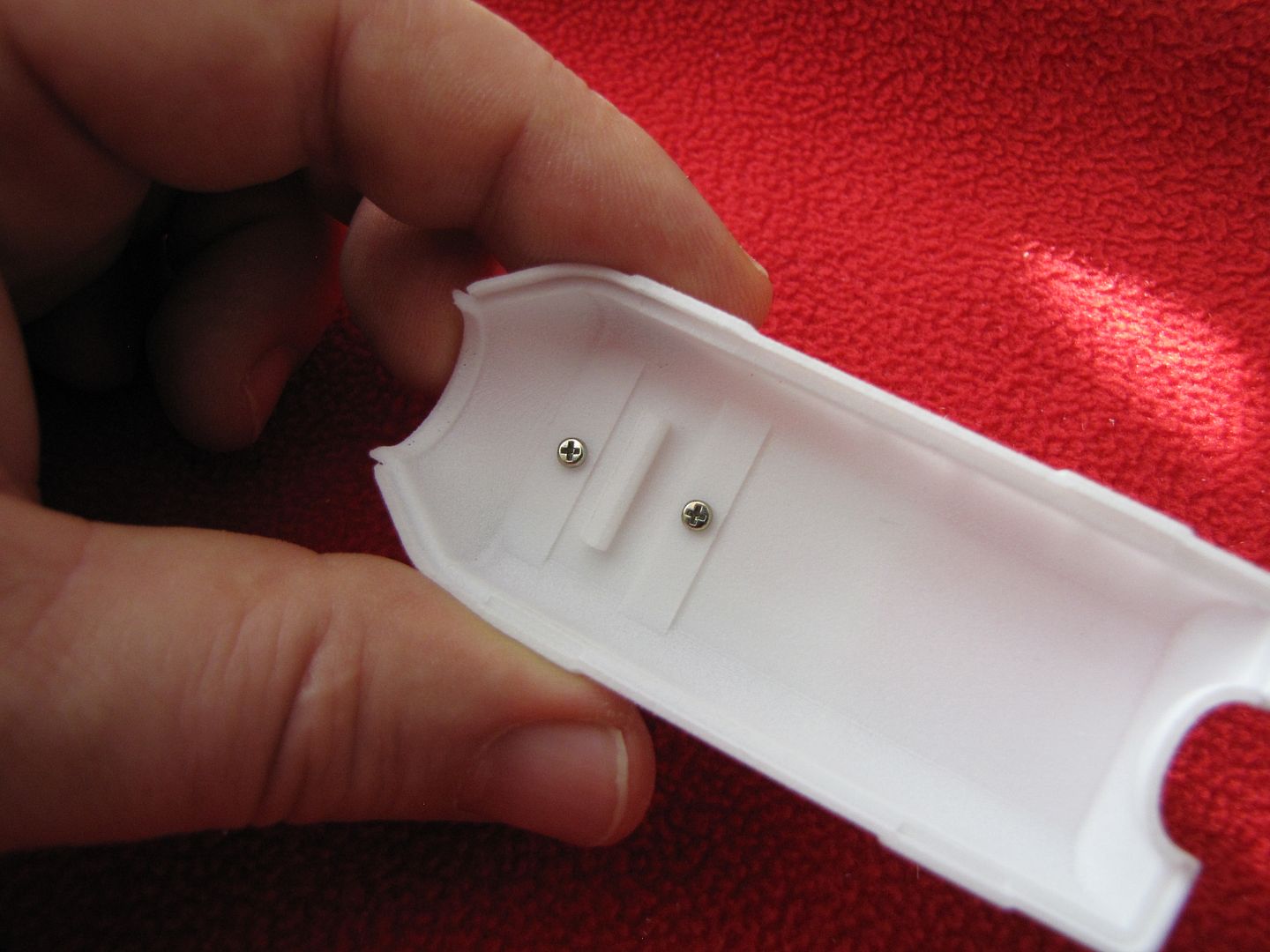 Photo above: two screws (2x5mm) for attaching mounting clip to the bottom of the lower camera casing.
INSTALLING THE CAMERA
Preparing of the camera
Carefully cut the heat shrink wrap off the camera. Pay attention not to cut, bend or damage any of the camera electronic and mechanical parts! On some places, shrink wrap plastic can be glued to camera electronic board. Be very careful at these points. Do slowly and precise.
Photo above: cut shrink wrap and remove.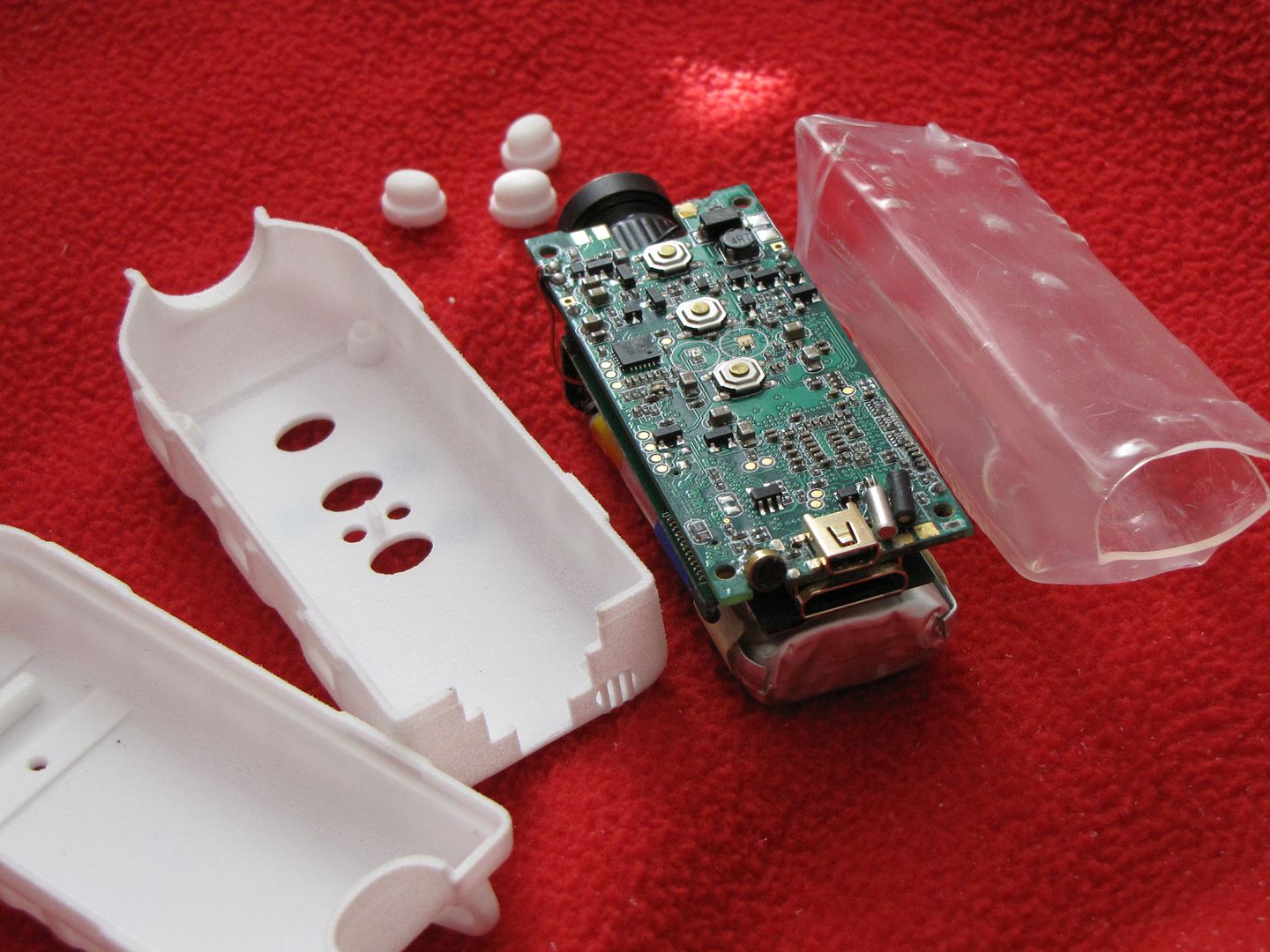 Photo above: camera released from its shrink wrap. 3D printetd parts are waiting to accept camera.
If you will use quick release clip, then screw on the clip part on the bottom camera casing as already shown above. Screws 2x5mm are not part of the printed package. You must buy them or find for yourself.Often they can be found on some broken domestic gadges (old cell phones, calculators...)

Now lay down buttons into the openings of the upper camera casing.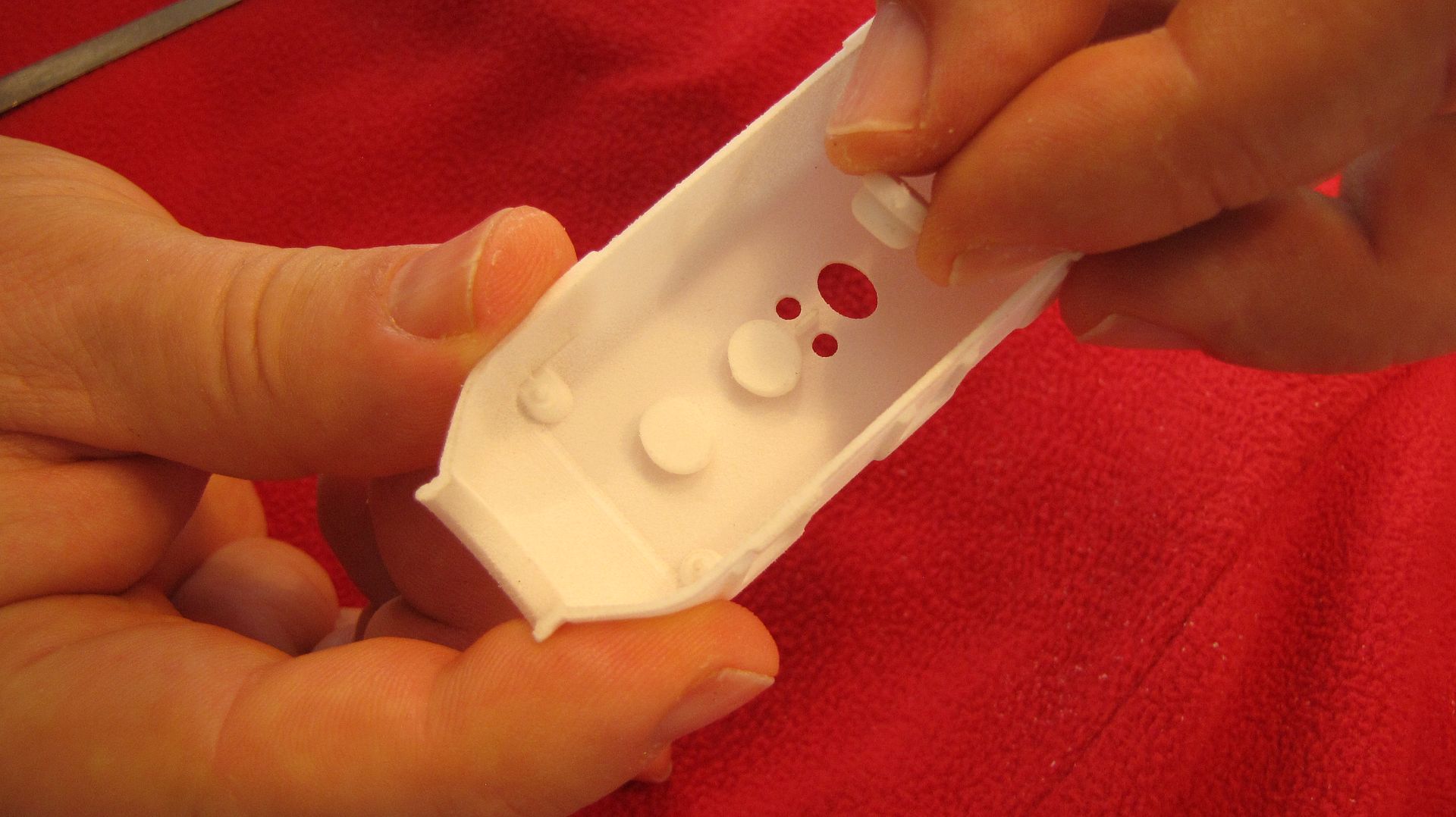 Photo above: insert buttons in to the elliptic holes.
Photo above: insert camera into the upper camera casing. (NOTE: camera battery omitted in this photo for clearity!). Camera lens should nicely fit, also the tiny spikes on the casing should sit into the holes at each corner of the camera circuit board.
Pay attention to tiny electric motor (vibrator)! It is glued to camera printed circuit..on each sample at slightly different aligment, so check how it fits inside your camera casing. Rotating part should not touch the casing. If it does touck, unglue motor and place it so, that it will be free of obstacles.
Photo above: electromotor-vibrator-buzzer. Unglue and place it to proper place. Glue it if necessarry. Rotating part (eccentric metal at its shaft) should not be in contact with no other part when rotating.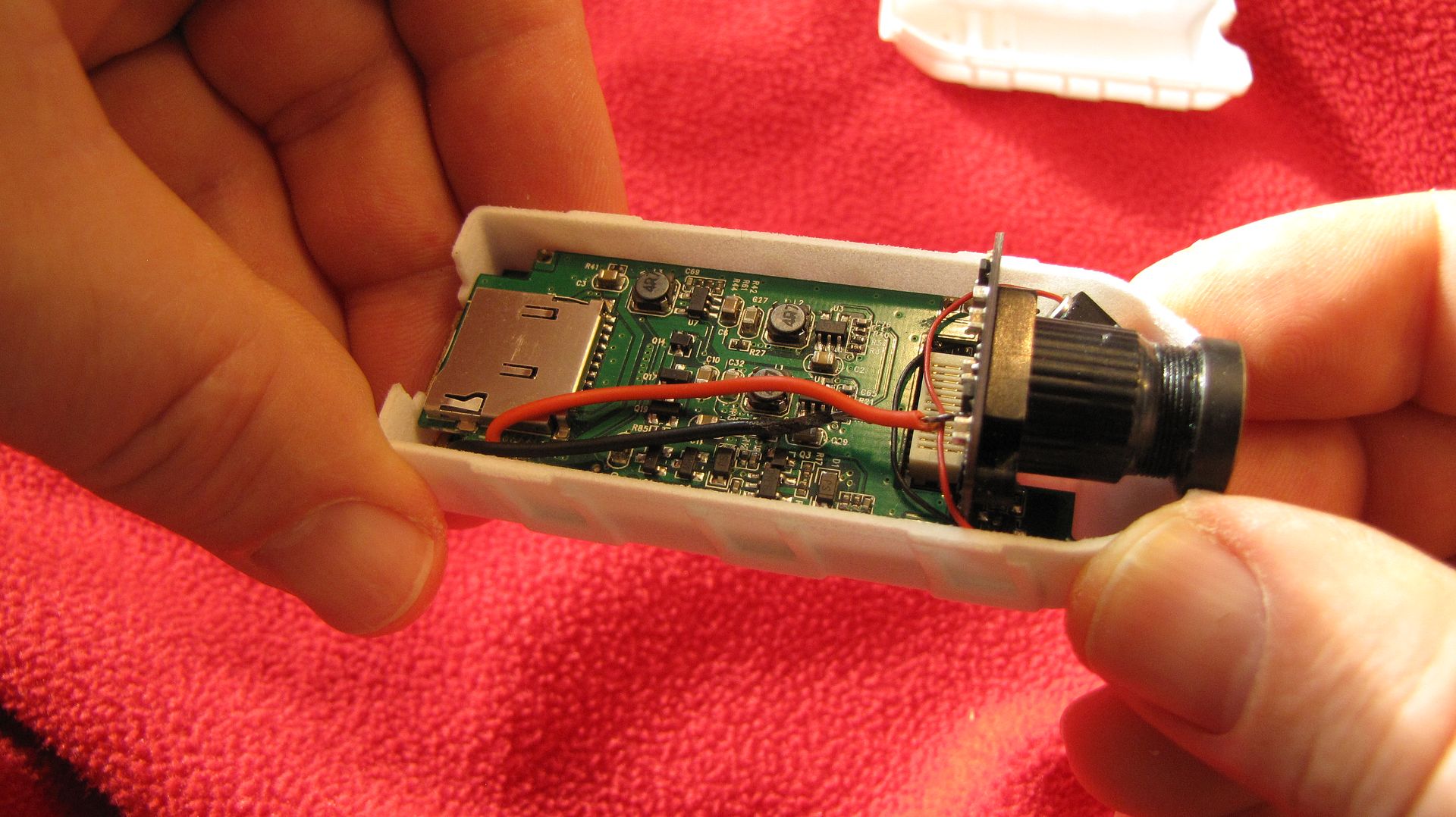 Photo above: camera sit tightly in the casing. (NOTE: camera battery omitted in this photo for clearity!  You should not remove battery from your camera!)

Test if camera buttons work as they should. You must hear "click" sound and feel it. Also some freeplay should be present. If no, then just sand off some of the material at the buttons bottom using sandpaper and check again. Repeat if necessarry.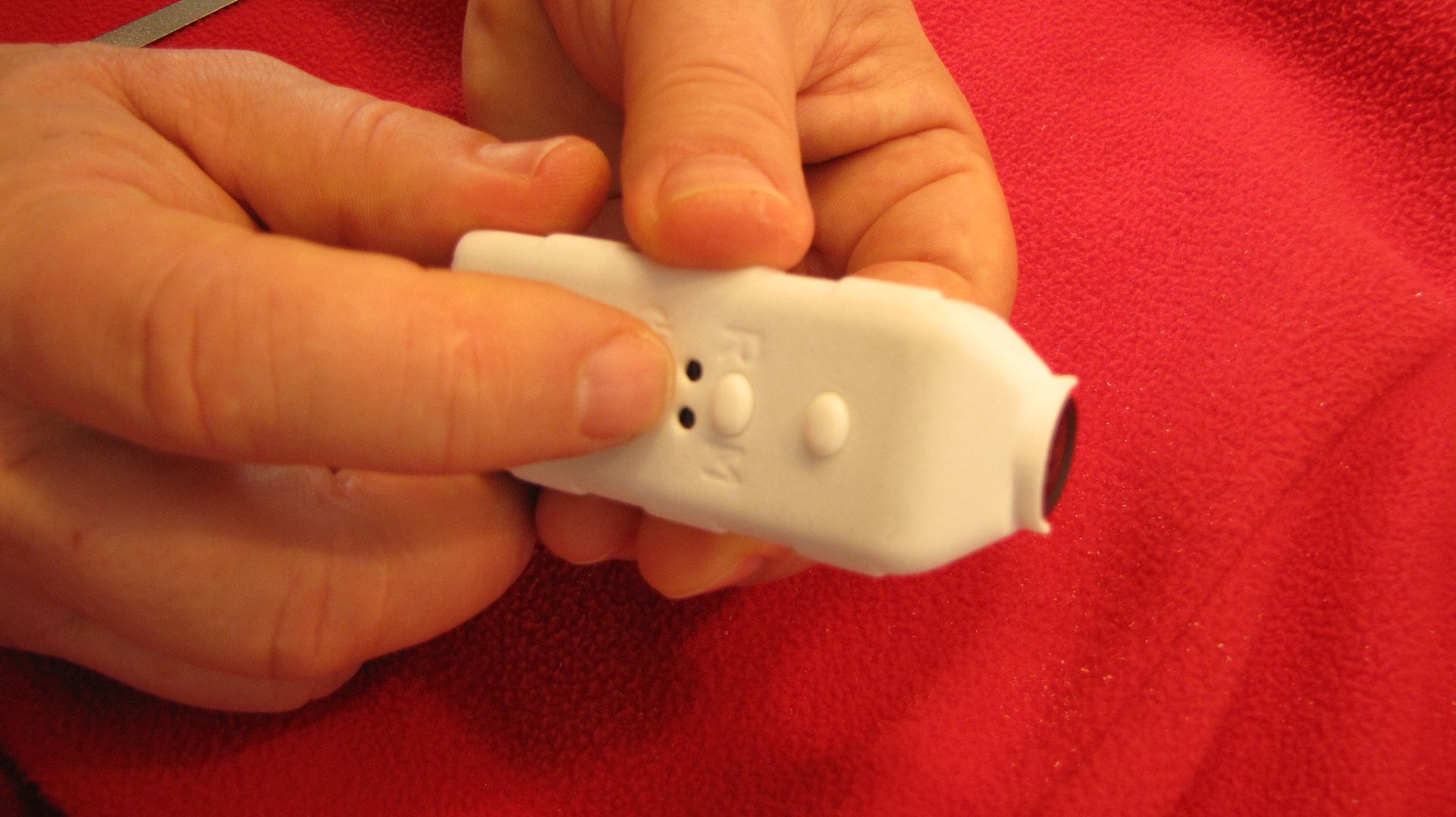 Photo above: test all three buttons for functionality.
Now put bottom camera casing and close it until you hear "click" at all 4 corners. Hold casing firmly tohether with fingers and check buttons again. If all works, use some glue at four edges of the camera casing to permanently lock them in place.  Use just minimum ammount of glue, as it will came a day, when you wanted to open the casing. It will be hard to open if complete joint around the casing is glued.
OPTIONAL
You can order smooth finish of surface parts or sand them by yourself. You can order colored plastic, or paint it by yourself. You can even use CD marker to paint engraving in the camera as I did, to higlight button functions (on/off simbol, R as record and M as Mode).
I bet, you will do better than me:
Photo above: "pimp my camera casing"
Camera casing is available at SHAPEWAYS.COM
Enjoy your newly dressed gadget!

Recently I purchased an T1000FC Auto Pilot System with GPS and install it into my electric plane Marabu.
The main reason for my interes in that electronic was a GPS "return to home" function. Of course the stabilization included is also a nice feature, specially when flying with a camcorder onboard.
Here is the gadget installation: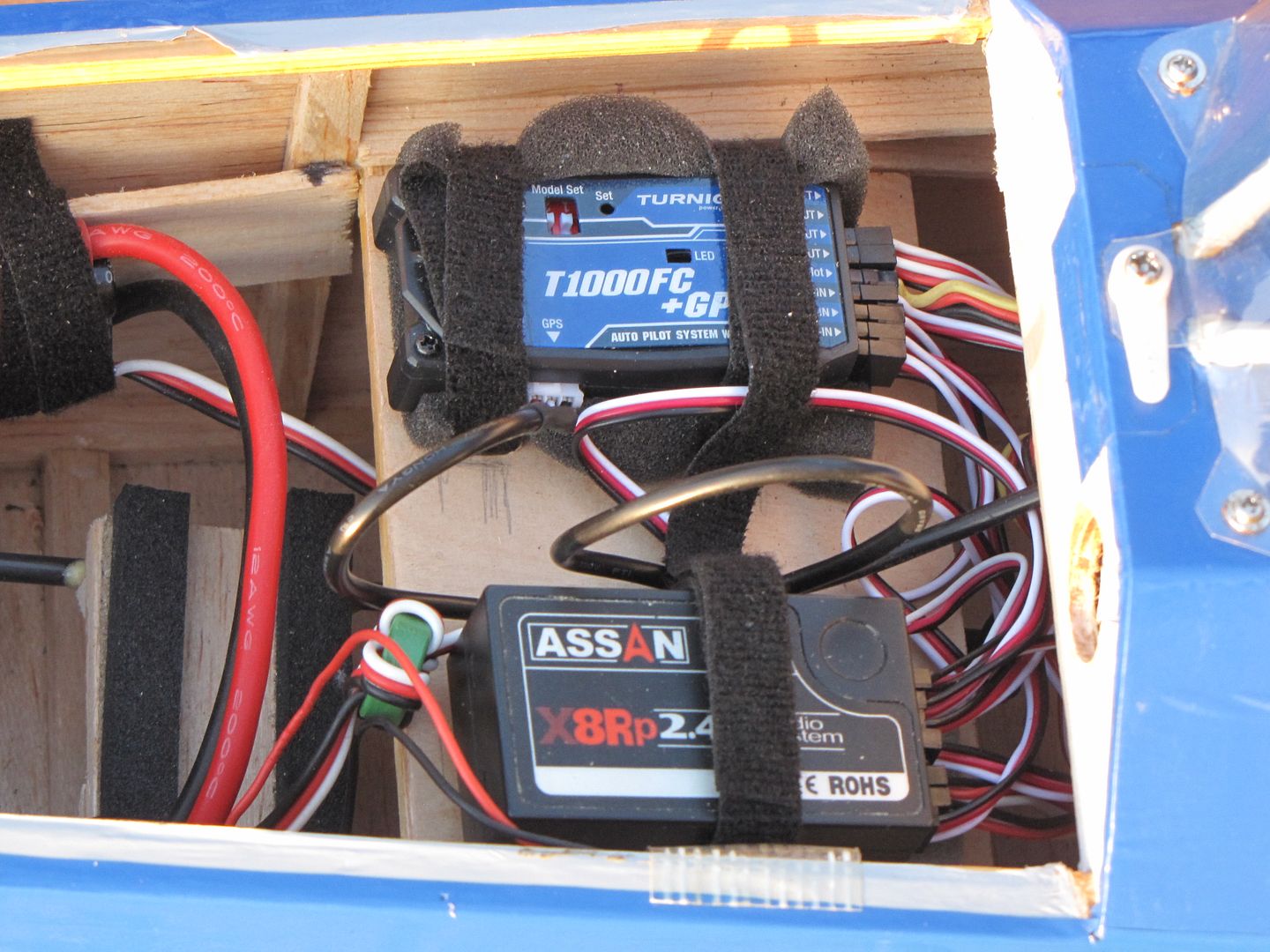 Photo above: T1000FC Auto Pilot System installed beside the reciever.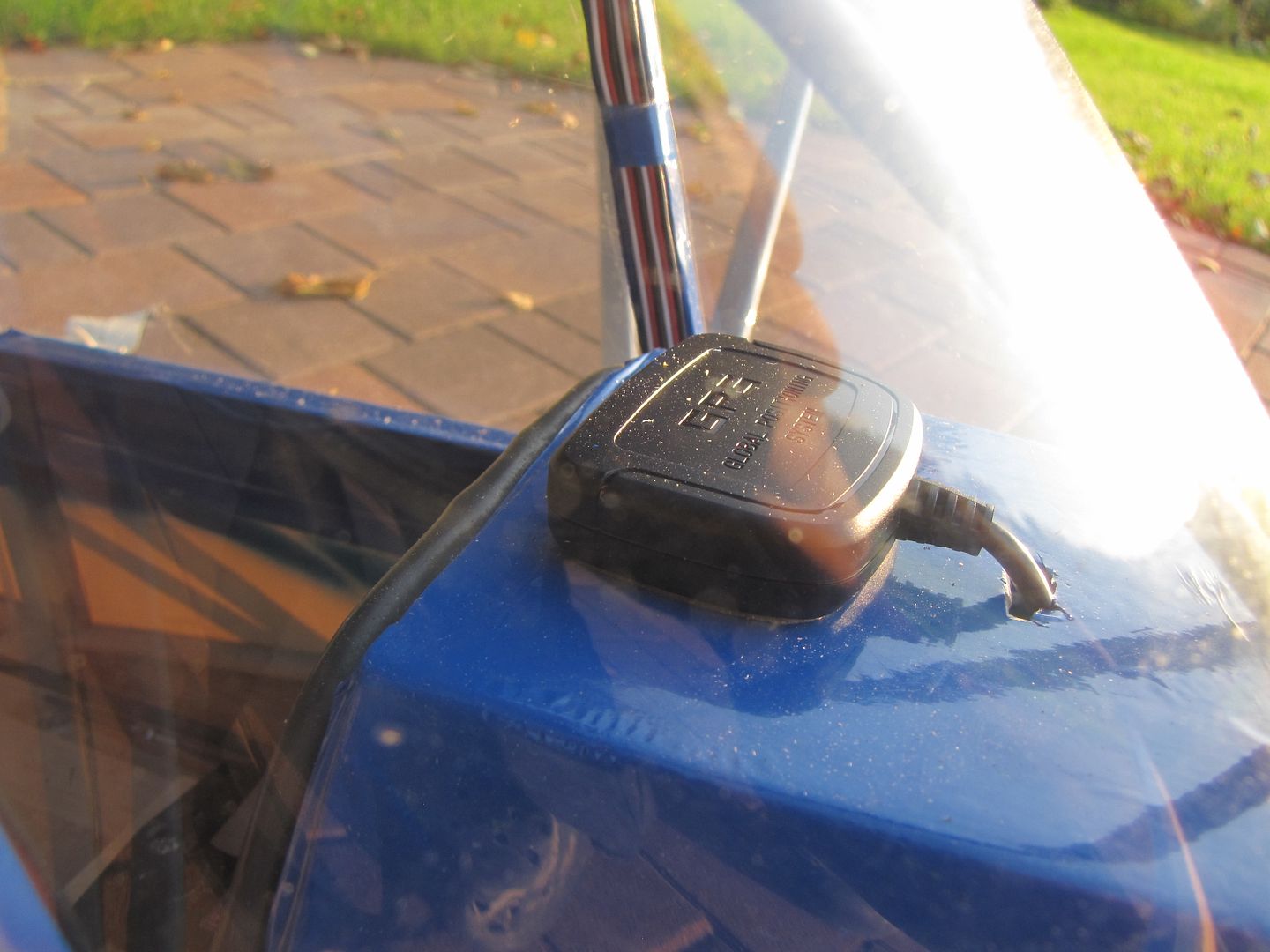 Photo above: GPS module.
And here is a flight test:
If you burn out the motor or brushes of rhe servomotor, you can use its electronics to turn on/off LED lights.
I knew that in theory, but I tryed this also to make actual test.
I just solder two LEDs on the wires that in servo goes to the motor. With trimmer potentiometer (included in servo electronics) you can even set the point where LEDs go OFF.
Note: this was only a test sample, othervise I would pack electronics in a shrink wrap and solder a tiny plug for connecting LED strip.

Altitude/Time Limiting System for R/C Airplane
I ve just ordered this Altitude/Time Limiting System for R/C Airplane for usage in electric gliders.
This gadget allow you that you pre-set the altitude ot the tame after launching model, to stop the engine. hence the name of this electronic device (Altitude/Time Limiting System). It can be used also at some F5J events.
Description from Hobby King:
With the all new Hobbyking Altitude/Time Limiting System, you can set the max altitude limit of your model and program the motor to cut-off after that altitude has been reached. Additionally, you can set the motor to shut down after a pre-set time of running. It works by reducing the throttle channel's output signal once the pre-set altitude/time has been reached. The limits can be easily programmed via the included programming box and offer a setting range of 16m~3050m (altitude), 5s~9999s (time). 
This system can also log your entire flight providing you a chart via PC software showing the in-flight altitude/time data.
This is a great device to ensure that your model is flying within your country's authorized altitude limits for model aircraft. All necessary components are included with this system and will simply require installation in your model.
Features:
• Easily program your motor to shut down after pre-set altitude and/or time limit is reached
• 16m~3050m altitude limit range
• 5s~9999s time limit range
• Compact design
• Easy to use
Altimeter Specs:
Operating Voltage: 3.5~8.4V / 10A max
Working Temperature: -20°C~65°C
Altitude Measurement Accuracy: +/- 0.3m
Altitude Limit Range: 16m~3050m (50ft~9999ft)
Time Limit Range: 5s~9999s
Dimensions: 23x15x6mm
Included:
Altimeter
Field programming box (also can be used as a battery cell voltage checker)
USB adapter
User manual