Sometimes it is not bad to put a project aside for a while if you feel that you are going anywhere with plans&drawings. Feeling like a dog who is chasing his own tail, just runing in circles! 
So, after a short break, I terurn to my Galeb (Gull) vintage Sailplane project. I can se clearly now
and decided to make some changes in the structure of the model design.
On the rudder I thined the lower part of the "spar" area as torsion is resisted by diagonal ribs at this area. On the horizontal tail I change the solid planking of the stabilizer. I discover, that the real one was not sheeted over entire surface. Fuselage will not be made complete at once on the "heling", but rather on the straight bench (board) left and right halve separately. I will simplify some details and try not to compliocate on the newest one.
GALEB (Gull) Yugoslav vintage Sailplane in 1:2,5 scale
I started a new project of making drawings&plans for a former Yugoslav School glider. It was designed pre ww2, but modified to version II. after the great war.
There are at least two different 3view drawings of Galeb sailplane, but I opted to use (and stik to) a 3 view drawing from a national soaring magazine Narodna Krila (wings of nation), where an complete article was published about that Sailplane in 1948. The article was written by designer itself.

Picture above: 3 view drawing of teh Galeb from 1948.
For designing this scale RC model I purchased two special programs :
- DevFus for designing of fuselages
and
-DevWing, for designing of wings (and tail surfaces also)
As Galeb was strongly influenced by Grunau Baby design, I will make internal structure of this glider (placing ribs and diagonals) similar to Grunau Baby. Galeb is slightly different than Grunau baby:
- it has larger wingspan
- it has lower fuselage
- it has elliptical rudder and rounded elevator tips.
Picture above: making of the fuselage in the DevFus software.
Further refinement of the fuselage: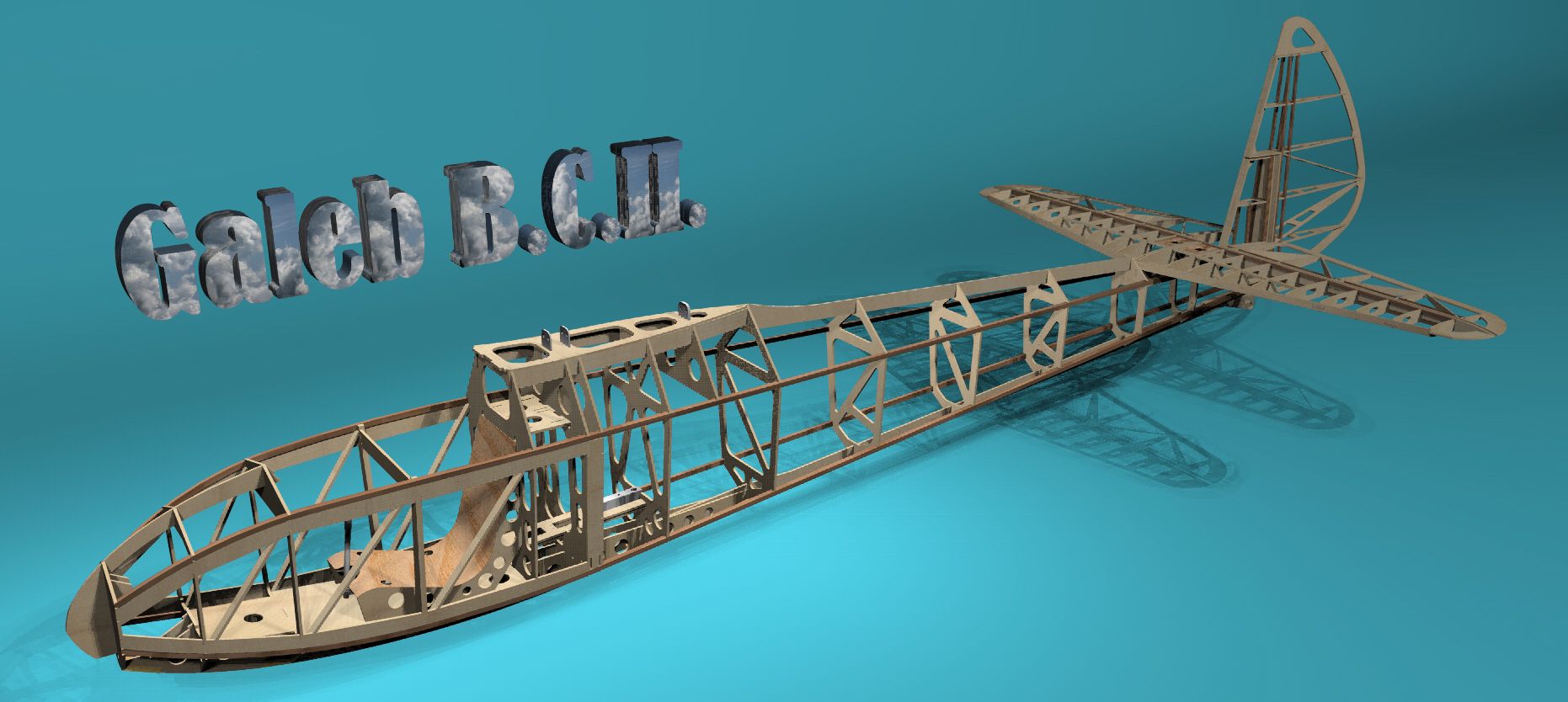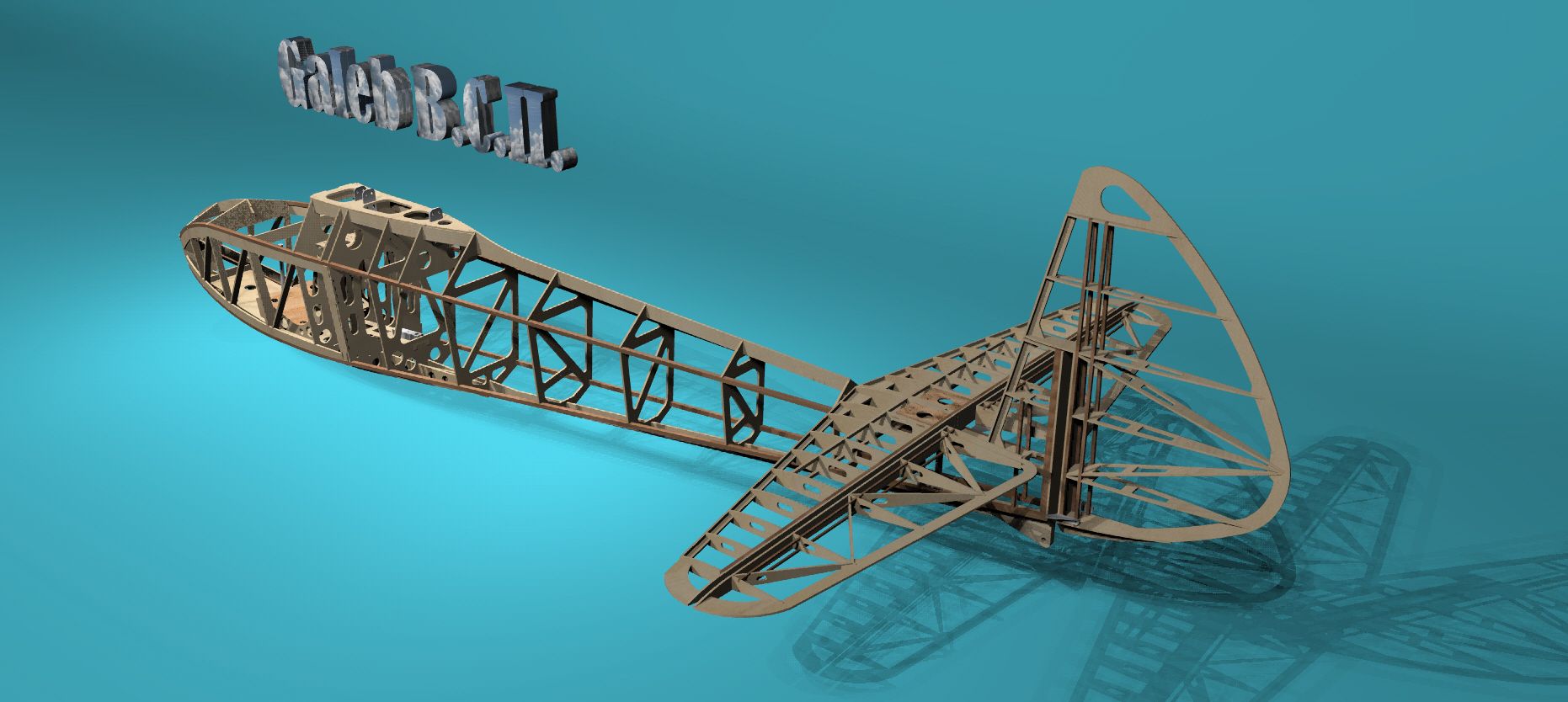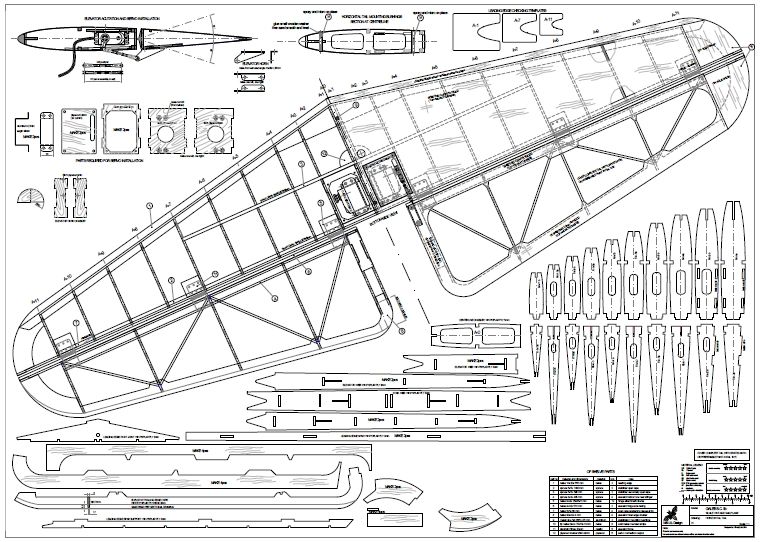 Picture above: elevator plans.
Picture above: making the wing structure in DevWing software.

Just an design excercise.... Need to design a cute and somehow "different" Biplane for a 26 ccm gasoline engine that wait for me somwhere in my workshop...
And what is "different" on that bipe?
I opted for a twice tapered wings, upper and lower of the same planform, just slightly staggered, without any outer struts and wires....just a "V" shaped pylons at the upper wing cabane. And of course a really large tail surfaces, as I like that my planes obey my commands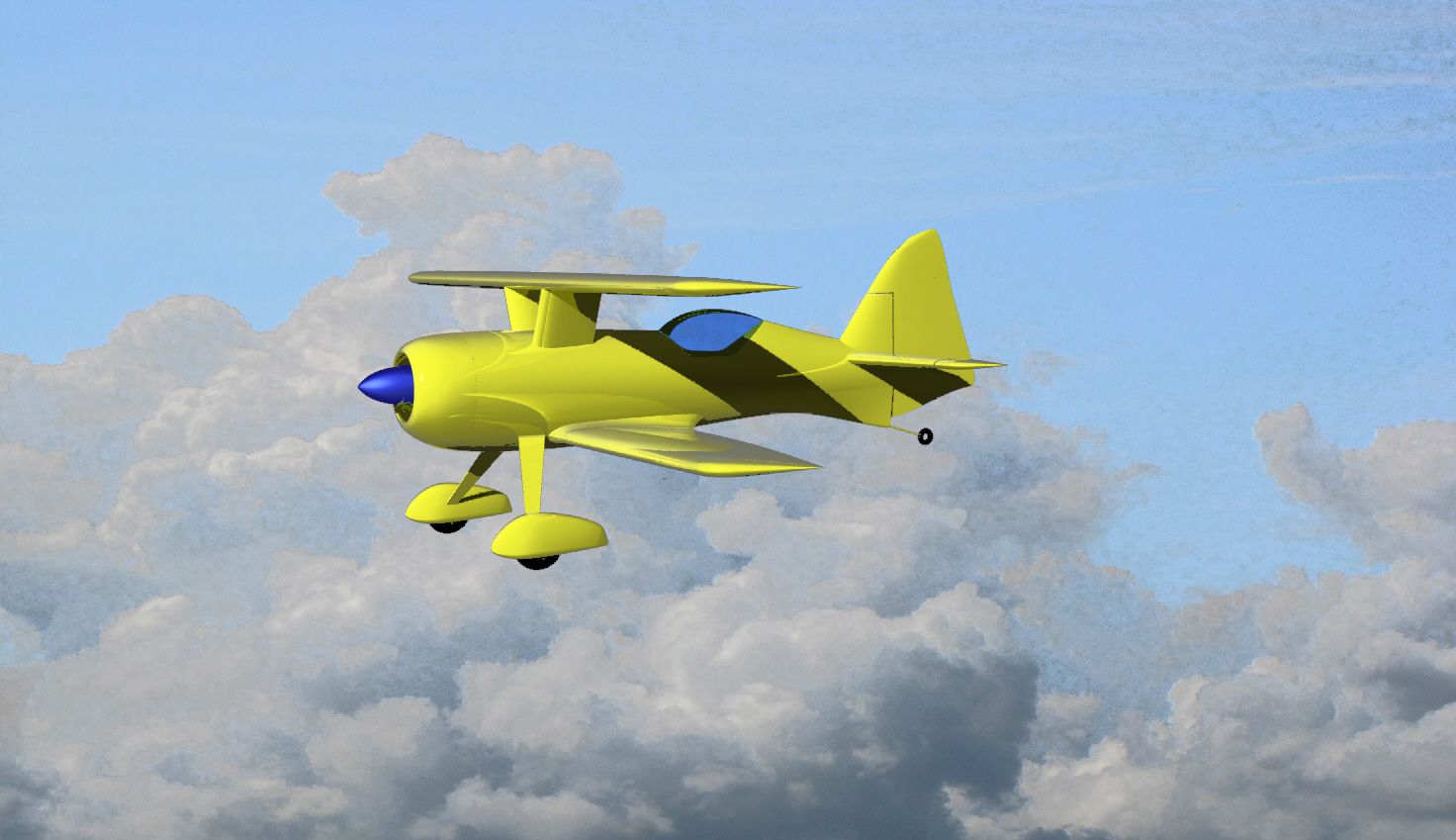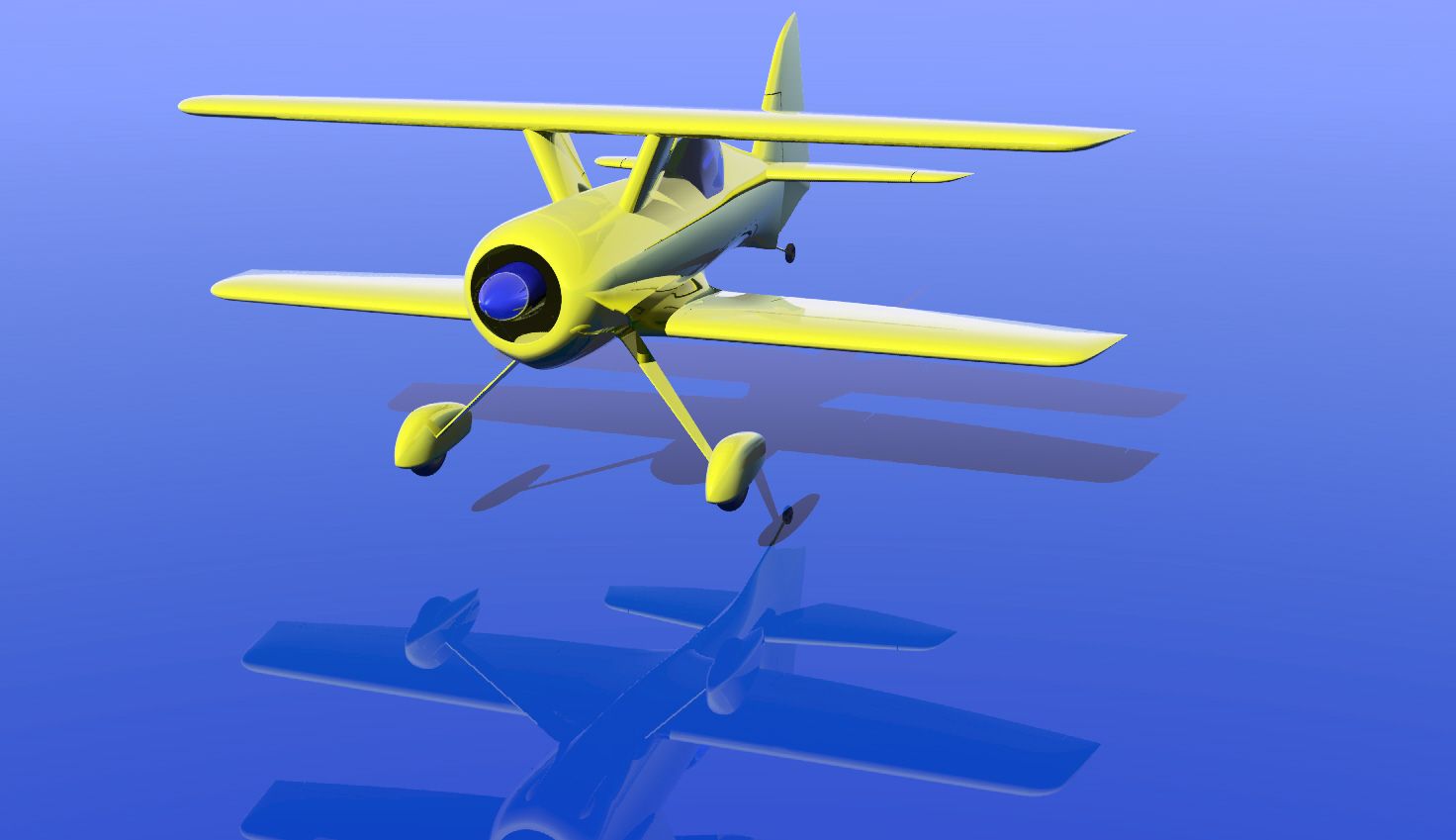 I starts build CIRUS HS 62 as an 3D computer graphic object.....
The research after Cirus HS 62 sailplane slowly came near to the finish.
A drawing below is a result of research after this two place high performance school glider from past.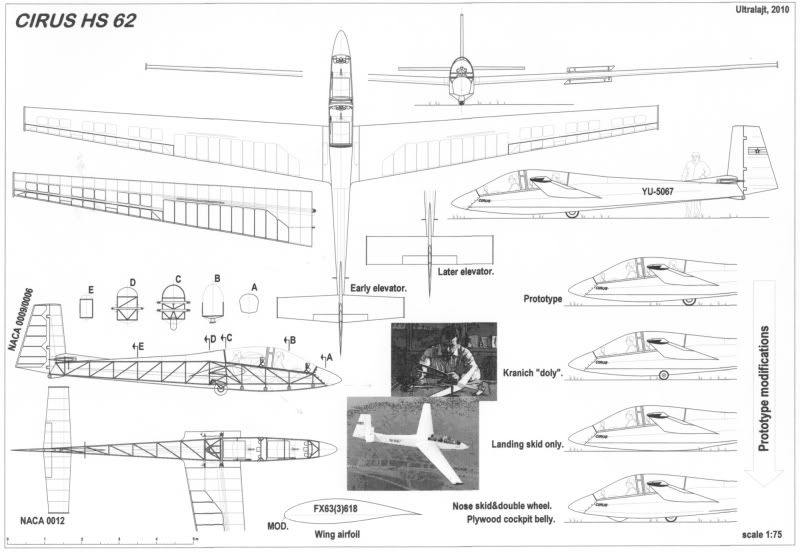 I believe, that now making of an scale RC sailplane is possible, based on this drawings.

My thinking "out of the box" 
Main features:
- heavy weight trike, for stable, maneuverable and fast flight
- ample power
- cool design with low drag
- tractor configuration
- folding prop for low drag motorless flight
- tail for the stable, oscilations free flight
- gyro for the elevator to prevent pitch oscilation of the trike
- motor and battery very appart to rise dinamic stability of the trike (lon arms for masses)
- brake and canopy lines apparts for a distance to "automatize" breaking motion at canopy pitching motions
- cool design
- cooool design
- and so on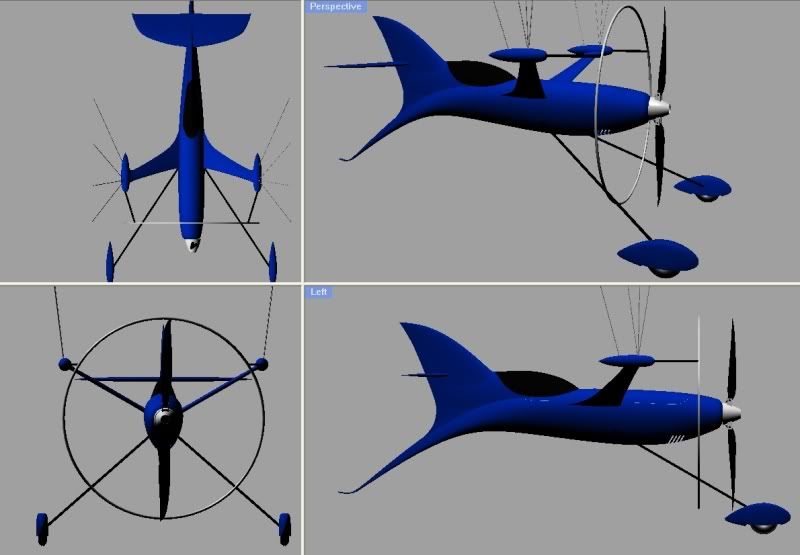 As I left aside the original shape of the new future model, some chemical reactions in my brain cause new look on "retro" design, so I came up with totaly different, but still retro outlook of the model.
Here is the comparision. I like the blue one more at this moment (right bottom).
What do you think?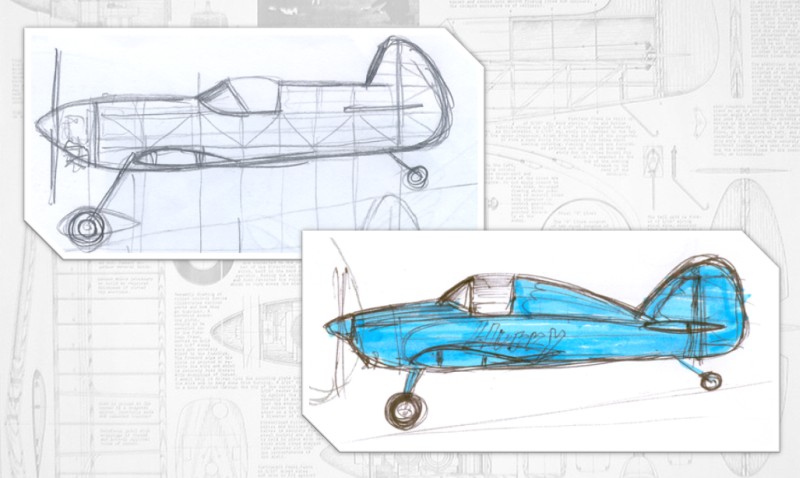 I was lazy over the Holidays, so now it is a last chance to start transfering ideas from dreams on to the paper, if I want to have aeroplane in the air in the early spring.
First I will draw a rough layout of the whole aeroplane (separate parts) on the paper in full scale.
I learn, that dimensioning and choosing proper structural proportions are done easier on the full scale sketch, than doing that on the computer, as looking drawing on the LCD screen, (no matter how large) one loose feeling of the proper proportions for some parts...thicknes of some members, spaces between some parts, lightening holes size and their placement...
So, when I will be satisfied with my hand drawing, I will put that into CAD and start to finalize drawings to prepare parts to be cut from plywood on my CNC. Unfortunately, by my new design approach, it seems that CNC parts from plywood will not represent majority of the model structure. So, CNC machine will not be the most important factor in making this aeroplane.

The majority of the structure will be made from spruce and hard balsa strips, and some sandwiched strips made from balsa core and hardwood caps.

So much from now.
I will post news as soon have something new to show.

After acrash of my Brugger Collibri scale model, that was caused with fault on a gasoline tubing, engine was sitting wrapped in a plastic on a shelve for a long time.
I am playing with idea to build another model for that engine. It will be a roughly 2x2m or a little less and will look like an oldtimer racing plane.
I believe, that a careful design of the structure, mostly made with spruce and thin plywood, can be done stronger or lighter that usual building concepts, that are nowdays popular (entire fuselage sides and formers CNC-ed from a lightweight white poplar plywood. As grasins in that plywood are oriented on some parts in wrong direction, even by fact that they are supported by nearby members, I strongly doubt in the efficient use of that material.
So, I am thinking a lot about totally "classical" internal structure of my new motorplane, that will give it lightines and strength.  So, even with ratger small and weak engine, the plane will be large and fly well.
It will not be a 3D aerobat, but rather a fun machine for casual and relaxing flights with plenty of maneuverability and great power/weight ratio, combined with low wing loading.
So, I am talking about this kind of structure:
And a rough sketch of aeroplane: