SLINGSHOT DEPRON TOY MODEL
 

 This is a little free flight plane made from 3 mm thick depron plate. It is easy to build and fun to play with.

 

 

 
 

 

This is a glider made from 3mm thick depron and spruce strips for a wing and tail reinforcements.

 

---
PAPER MODEL OF VINTAGE SAILPLANE "INKA"
Couple years ago, I made a plans for mini paper glider, oldtimer of course.
It is INKA training glider from 1937-38.

  So, here you can download the pdf file with short description of the glider, some photos, and off course, there are also 4 pages that you can print, cut and assemble a scale paper glider INKA.
If you build it properly, and put some weight in the nose, the INKA will fly.

Some technical data of the real glider:

Design by: professor Dr. ing. Anton Kuhelj.
Year of manufacturing: 1937-38.
"V" struts supported wing with two wing spars.
Fuselage front part covered with plywood, rest with fabric.
Purpose: ridge soaring
Start: bungee

The glider was designed as much simple, because it was intended to be manufactured by small groups of enthusiasts in glider schools, which poses only average woodworking workshops, tools and skills.
The glider was in use till outbreak of WW2, on slopes of Bloke in Slovenia. 
            Plans preview:
  
As many of you ask me for the plans of CNC machine I have recently build, I will post here some plans for downloading. The files will be added as soon the drawings will be prepared...
Plans are not done in every tiny detail as that will take me much time. So, some of details are left to the builder imagination. Looking at the building thread in my Blog, can help solve that detaills (bolting and such..)
See assembly photos HERE.
Building thread on CNCZoneForum.
More to come in next days..
Patterns for a Pilot` Overal i 1:3,5 scale
FREE DOWNLOAD pdf file with patterns and scale drawings of hands and shoes.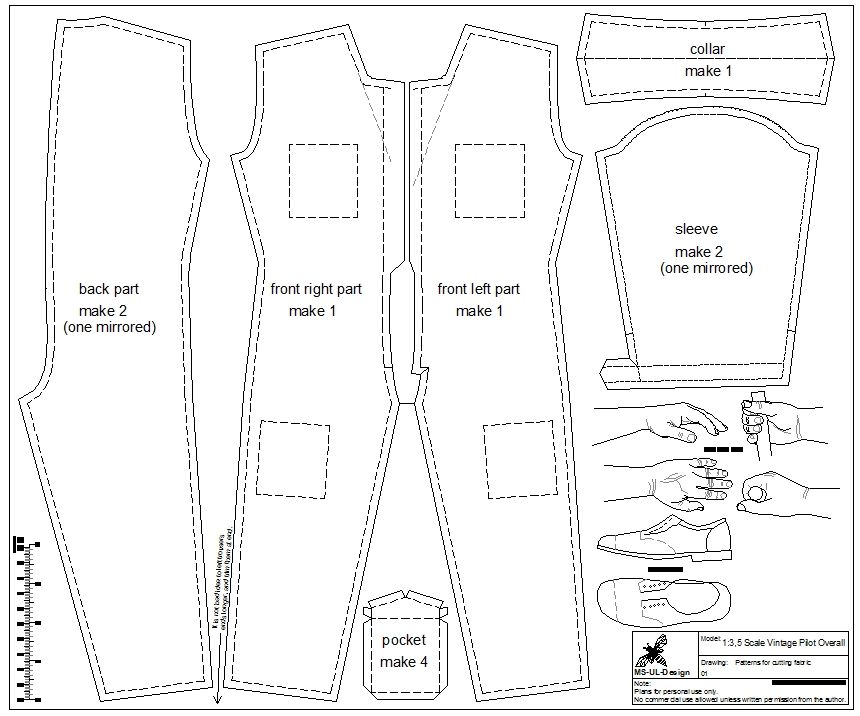 You can see sewing instructions HERE!
You can download and use those plans free of charge as long as they remains for persona,l non commercial purpose. Any commercial use of plans, drawings and manualls is strictly forbidden without written permition of the author.
PYLON MODEL PLANS

Some years ago, my friend modeller build a small simple pylon model and ask me to make plans for it to make it available for other model builders. Plan was available at some servers that unfortunately dont exists anymore, so I decided to put PYLON PLANS here in my Free Plans section of the ultralajt Website.